THE BENGAL SIRES OF FOOTHILL FELINES
HDW ENTERPRISES &
Foothill Felines Bengals/Savannahs

Spothaven 'Mighty' Ewan of Foothill Felines
FOOTHILL FELINES BENGALS & SAVANNAHS
Cameron Park, CA 95682 U.S.A.
(530) 672-CATZ Phone; E-mail: holly@hdw-inc.com
We are very proud to share the magnificent Bengal breeding sires who have sired wonderful litters of kittens for us over the years here at FOOTHILL FELINES BENGALS with you. Just CLICK ON ANY PICTURE for more photos/details about that cat!! (Currently, we have no intact males at our cattery. Cats listed as "Reference" are also no longer whole breeding males at our cattery.) To see pictures and links to more information about our SAVANNAH KINGS, please CLICK HERE.
GOGEES ALPHA OMEGA
(now of Leopardprint Cattery)

Omega was an incredible addition to our Bengal breeding program - and we are extremely grateful to Gene Ducote of Gogees Bengals for letting us have him. Omega's sire is Gogees Casanova, and his dam is Gogees Satinique. He does not carry the melanistic gene, nor does he carry for snow. He's been voted as one of the 10 favorite Bengals in 2006!! Photo courtesy of Gene Ducote.

SIMBASPRIDE 'MAJOR' MEWS
(now of Nitewindes Cattery)

"The Major" sired many litters of both Bengals and Savannahs for us. Many thanks to Phil Mireles of Spothaven Bengals for letting us have this spectacular boy. 'Major' Mews' sire is RW QGC Dicaprio of Starbengal, and his dam, Starbengal Trinity, is a full sister to our own Vida Mia. Major is homozygous for spotted. Not only is he covered with huge rosettes from nose to tail, but he has a large bone structure, elegant profile, small ears, outstanding tail, and he is such a sweet, loving boy!! Photo © Jim Brown

SPOTHAVEN MONSOON OF FOOTHILL FELINES
(Retired)

Son of SGC Americatz Ocelli Cloud of Starbengal (one of the top silver Bengals in the world) and Jumanji Saika, Monsoon was an exciting addition to our breeding program. We thank Phil Mireles of Spothaven Cattery for this outstanding male out of such awesome new bloodlines. Monsoon is an extremely sweet, big boned, untarnished silver spotted Bengal with incredible potential!! Photo © Jim Brown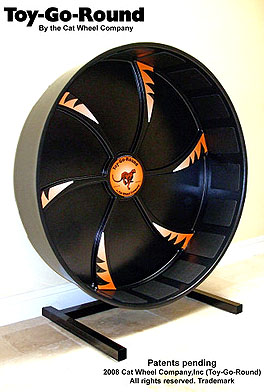 TOY-GO-ROUND CAT EXERCISE WHEELS
~ Click on image above to learn about the incredible new exercise wheels for cats; the Toy-Go-Round wheels!! Great for relieving boredom and stress, controlling weight, building muscle, and keeping your indoor cat in top physical shape for the show ring, breeding, or just to enjoy life to the fullest!! For breeders, this is especially important to the reproductive health of both toms and queens. With their compact size and design, they easily fit into small spaces such as stud pens. These are simply the best designed, best built and best priced wheels we've found anywhere!! ~
HAMPTON YUKON OF FOOTHILL FELINES
(Newly Retired and Staying With Us)

Yukon is a Mochamelo grandson - a huge thank you to Janie Winn of Hampton Bengals for parting with this gorgeous boy. Yukon's sire is Abundadots Wasabi of Hampton, and his dam is Foothill Felines Yukiko of Hampton. We are enchanted with this super sweet, richly rosetted, glittered and pelted seal mink spotted boy!! He has his grandmother's rich aqua eye color, loud purr, and her mischievous attitude, too!! Photo by Tammie Ekkelboom

REFERENCE: GOGEES MICHABO OF FOOTHILL FELINES
(Retired)

Son of Nairobi's Rusty Rosette of Gogees from the exciting 'Bristol' line and Gogees Star War Challenge, Michabo was bred by Gene Ducote. Along with his rich rosetting, gold glitter, clear coat, huge bone structure and black spots, he has a wonderful face, large round green eyes, long, slinky, muscular body - and the sweetest purr-sonality!! Mich is homozygous for spotted and tested HCM negative at over 5 years old. Photo © Jim Brown

REFERENCE: CH FOOTHILL FELINES MR. BIG SPOT
(Retired)

Son of RW TGC Almaden Hot Shot and Foothill Felines Malarki, CH Foothill Felines Mr. Big Spot is a gorgeous leopard spotted male with beautiful open rosettes and great body and head type, plus an extraordinary loving and sociable purr-sonality. Photo © Jim Brown

REFERENCE: SPOTHAVEN 'MIGHTY' EWAN OF FOOTHILL FELINES
(Retired)

Bred by Phil Mireles of Spothaven, Ewan's sire is Exoticrose Picasso of Spothaven, and his dam is a full sister to RW QGC Dicaprio of Starbengal, Celine Dion of Starbengal. Ewan's coat is like spun gold, with beautiful, open rosettes all over and a full whited tummy, yet without sacrificing any size, muscle or type. He is an absolute angel!! Photo © Jim Brown

~ Click on image above to order this uniquely powerful nutritional supplement for felines at our Foothill Felines breeder discount. Used and recommended by Foothill Felines, just a pinch a day in wet and/or dry food provides vibrant results with all ages, weights and breeds of cats. Studies show these nutrients support a strong feline immune system, improve the libido and performance of toms, and help queens carry healthy litters full-term. Developed by scientists, veterinarians and formulators to enhance the health and lives of cats, this unique Nu- Vet supplement contains many important minerals, antioxidants, enzymes and vitamins INCLUDING taurine, calcium, blue green algae, brewer's yeast, and much more. ~
REFERENCE: SPOTHAVEN MALAMUTE
(Retired)

Malamute is another incredible Bengal bred by Phil Mireles. Malamute's parents are Stageone Skywalker of Spothaven and Silvergene Satine (now of Bellbooknbengal). Our first silver Bengal, he produced some outstanding kittens for us including Foothill Felines Picasso of Fire'n'Ice who is the adorable brown marble Bengal kitten on the Eukanuba kitten food bags!! Malamute has great bone and muscle structure; a wonderful face and head; terrific pelt; nice pattern and rosettes, plus a thick plush tail. He is a talkative love-bug who adores belly rubs!!

REFERENCE: FOOTHILL FELINES METALLICA
(Retired)

Our own son of SGC Heritage Kimo and Gogees Marshamelo of Foothill Felines. Marshamelo is the only seal lynxpoint snow Bengal queen ever to have been bred to Kimo; Kimo is wellknown as the first Supreme Grand Champion Bengal in California. Metallica's offspring continue to flourish in Bengal breeding programs all over the world.

BELOVED PET ONLY: MAGNUM

Our panther-like, neutered pet, 1/2 Abyssinian, 1/2 Bengal "Mr. Mom" is our resident babysitter, peace-maker, founder/teacher of the "Prey Game" and my very best friend!! Never used for breeding, he nonetheless is the single cat to have got me started with my dream that became Foothill Felines.
FOOTHILL FELINES BENGALS & SAVANNAHS
Cameron Park, CA 95682 U.S.A.
(530) 672-CATZ Phone; E-mail: holly@hdw-inc.com
HOME | HOME (FRAMES VERSION) | BENGAL CATS | BENGAL & CAT CHAT | FREE BENGAL CAT SCREENSAVER | AVAILABLE BENGAL KITTENS & CATS | BENGAL KITTEN PHOTO ALBUMS | FUTURE LITTERS
FELINE BEHAVIOR | BREEDING & CARE | CAT SHOWS | FELINE HEALTH | PET ODORS & ALLERGIES
UNIQUE CAT ACCESSORIES | THE BENGAL SPOT® | CAT EXERCISE WHEEL | CAT BOOKS | CAT FURNITURE | CAT TOYS & CATNIP | CHRISTMAS IS FOR CATS!® | SCAT MATS | VIDEO CATNIP | CAT WALKING JACKETS
BIG CATS | CAT NAMES | FELINE FUN FACTS | HOW TO ORDER | THE "KITTY TIMES" WEBSITE REVIEW | MARSHA'S WEB PAGE DESIGN® | MONTHLY SPECIALS | THOUGHT FOR THE WEEK
ABOUT US | CELEBRITY CORNER | E-MAIL US | GIVE US FEEDBACK | HOT LINKS | REGISTER FOR FREE GIFT | WEBMISTRESS
© 1996-2009 Copyright by HDW Enterprises, Inc. - All Rights Reserved.
HDW Enterprises, Inc., Cameron Park, CA 95682 Phone: (530) 672-CATZ
http://www.hdw-inc.com E-mail: holly@hdw-inc.com