Proudly Presented By
HDW ENTERPRISES & Foothill Felines Bengals
| | |
| --- | --- |
| | To use HDW's "Shopping Cat" and access our Secure Server, simply choose the item and quantity and add it to your shopping cart at the end of each page where you see this picture! |
| | |
| --- | --- |
| | We are THRILLED to be a dealer for the brand new re-designed PET EXERCISE WHEEL (formerly known as the Toy-Go-Round wheel) ... because it's quite simply the best made (now completely made in the USA), best looking, best priced and best rated pet exercise wheel we've seen! |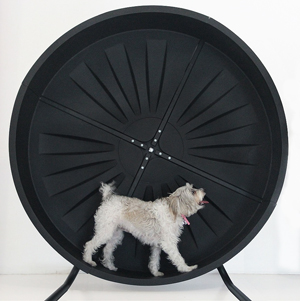 These Pet Exercise Wheels (formerly known as the Toy Go Round wheels, but completely re-designed) are made from strong, lightweight materials so that they spin smoothly on a tuned dual ball bearing axle. The running surface tread has been increased from 10 inches to 12 inches in width. A truly beautiful piece of furniture, this Pet Exercise Wheel boasts a 48 inch diameter (previously it was 43 inches). The stand size is 33 inches front to back, and 33 1/2 inches side to side, giving this pet exercise wheel increased stability. Total weight is 65 pounds.

Just about any cat, small dog or other small animals under 25 pounds will have the ability to use these wheels. The wider running tread will increase the confidence of full-figured felines, too! Each cat and small pet is unique in personality and degree of curiosity ... some cats will take to the wheel right out of the box, and others will require a bit of encouragement and training; in these cases, use of a feather, straw or wand toy to get the cat on the wheel and a reward after usually does the trick.


| | | |
| --- | --- | --- |
| | CLICK HERE or on the kitty to the left to look at some great VIDEOS showing how to teach a cat to use the previous version of this exercise wheel, plus see a variety of cats EXERCISING their running skills!! These cats on wheels are HOT!! | |
PET EXERCISE WHEEL SPECIFICATIONS AND FACTS:


* Price: $529.99.
* To keep shipping costs down, there is some simple assembly required.
* The actual wheel diameter is 48 inches.
* The actual wheel running tread width is 12 inches.
* The wheel with box weighs approximately 65 pounds.
* Display decals are included with the wheel at no additional charge.
* The box is colorful with information on all 4 sides. The box can be placed upright or lain on its side.
* The wheel requires minimal assembly by one person only; it comes complete with the tool needed for assembly.
* The main wheel portion is made from all black heavy gauge industrial plastic and steel.
* The interior grip pads are made from a soft sponge material; this material is not covered under the warranty as it will eventually get scratched up by long nails).
* The grip pads are optional, and may be ordered for a small additional fee.
* The stand for the wheel is made from powder coated steel tubing.
* All parts are made and assembled in the USA to ensure quality and closer control over the manufacturing process.
* The wheel should only be used with one pet at a time.
* This is a special order, no return item.
The Pet Exercise Wheel comes with a limited one year warranty from the date of purchase and applies only to the original buyer. The warranty is only valid within the continental USA and covers any manufacturing defects that caused the wheel to perform incorrectly. The warranty does NOT cover any damages due to misuse, improper use, retro-fitting or altering of any kind, accidental damages, improper assembly or maintenance, third party repairs, or excessive use or neglect.

| | | |
| --- | --- | --- |
| | Click to Order the Incredible PET EXERCISE WHEEL for only $529.99 plus shipping (enter quantity and click on "Add to Cart"): | |
| | | |
| --- | --- | --- |
| | Click to Order the Optional RUBBER GRIP PADS for the Pet Exercise Wheel for only $35.00 per set plus shipping (enter quantity and click on "Add to Cart"): | |
| | |
| --- | --- |
| | PLEASE NOTE: The Pet Exercise Wheel is a special order item, and is non-returnable for any other reason than a specific product malfunction within the first year. Any return requests are to be handled directly with the factory, per the warranty card included with your new wheel. |
HDW ENTERPRISES & FOOTHILL FELINES BENGALS/SAVANNAHS
3115 Twin Oaks Road, Cameron Park, CA 95682, U.S.A.
(530) 672-CATZ Phone; E-mail:
holly@hdw-inc.com
HOME | HOME (FRAMES VERSION) | BENGAL CATS | BENGAL & CAT CHAT | FREE BENGAL CAT SCREENSAVER | AVAILABLE BENGAL KITTENS & CATS | BENGAL KITTEN PHOTO ALBUMS | FUTURE LITTERS | SAVANNAH CATS
FELINE BEHAVIOR | BREEDING & CARE | CAT SHOWS | FELINE HEALTH | PET ODORS & ALLERGIES
UNIQUE CAT ACCESSORIES | THE BENGAL SPOT® | LEOPARD PET STROLLER | CAT EXERCISE WHEEL | CAT BEDS, STAIRS & SOFAS | CLEVERCAT LITTERBOXES | CAT BOOKS | CAT FURNITURE | CAT TOYS & CATNIP | CHRISTMAS IS FOR CATS!® | SCAT MATS | VIDEO CATNIP | CAT WALKING JACKETS | KITCHEN SINK STORE
BIG CATS | CAT NAMES | FELINE FUN FACTS | HOW TO ORDER | THE "KITTY TIMES" WEBSITE REVIEW | MARSHA'S WEB PAGE DESIGN® | MONTHLY SPECIALS | THOUGHT FOR THE WEEK
ABOUT US | CELEBRITY CORNER | E-MAIL US | GIVE US FEEDBACK | HOT LINKS | REGISTER FOR FREE GIFT | WEBMISTRESS
© 2009-2014 Copyright by HDW Enterprises, Inc. - All Rights Reserved.
HDW Enterprises, Inc., Cameron Park, CA 95682 (530) 672-CATZ phone
http://www.hdw-inc.com E-mail: holly@hdw-inc.com