Proudly Presents

SIMBASPRIDE 'MAJOR' MEWS OF FOOTHILL FELINES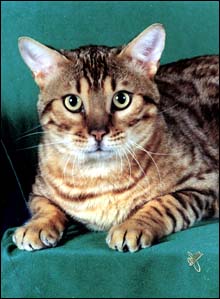 FOOTHILL FELINES BENGALS & SAVANNAHS
Cameron Park, CA 95682 U.S.A.
(530) 672-CATZ Phone; E-mail: holly@hdw-inc.com
BENGAL KING
Major Mews was born on November 4, 2002, and came to us here at Foothill Felines at 8 months of age, from Phil Mireles of Spothaven Bengals!! 'Major' Mews is incredibly rosetted, with his big open rosettes flowing all over his large, muscular body. His coloring is just gorgeous, with a beautiful warm red gold coat that glows with health and richness. We just love his wild, elegant profile and small ears, and his adorable little black "mustache" -- he is such a sweet boy, and he loves to give and receive kisses!! We are absolutely thrilled with his beauty, and enchanted with his sweet and loving disposition, and owe Phil a huge THANK YOU for letting us have this absolutely stunning boy.

Above right, meet Major Mews' sire - RW QGC Dicaprio of Starbengal. His dam is Starbengal Trinity of Simbaspride (a full sister to our own Starbengal Vida Mia of Foothill Felines, pictured above left). Click on pictures for their pedigrees.

The 'Major' made the trip from Phoenix to Sacramento beautifully, and he has gone on to be an absolutely exceptional sire in both our Bengal and Savannah breeding programs. He passes on gorgeous rich red coloring; beautiful large rosetting; multi-layered glitter; big bone and muscle; wonderful temperaments ... well, we could go on and on!! He has sired some phenomenal snow Bengals also. He is homozygous for spotting, so has never sired a marble. Photos this page are of the 'Major' at one year old, taken by Jim.









FOOTHILL FELINES BENGALS & SAVANNAHS
Cameron Park, CA 95682 U.S.A.
(530) 672-CATZ Phone; E-mail: holly@hdw-inc.com
HOME | HOME (FRAMES VERSION) | BENGAL CATS | BENGAL & CAT CHAT | FREE BENGAL CAT SCREENSAVER | AVAILABLE BENGAL KITTENS & CATS | BENGAL KITTEN PHOTO ALBUMS | FUTURE LITTERS
FELINE BEHAVIOR | BREEDING & CARE | CAT SHOWS | FELINE HEALTH | PET ODORS & ALLERGIES
UNIQUE CAT ACCESSORIES | THE BENGAL SPOT® | CAT EXERCISE WHEEL | CAT BOOKS | CAT FURNITURE | CAT TOYS & CATNIP | CHRISTMAS IS FOR CATS!® | SCAT MATS | VIDEO CATNIP | CAT WALKING JACKETS
BIG CATS | CAT NAMES | FELINE FUN FACTS | HOW TO ORDER | THE "KITTY TIMES" WEBSITE REVIEW | MARSHA'S WEB PAGE DESIGN® | MONTHLY SPECIALS | THOUGHT FOR THE WEEK
ABOUT US | CELEBRITY CORNER | E-MAIL US | GIVE US FEEDBACK | HOT LINKS | REGISTER FOR FREE GIFT | WEBMISTRESS
© 1996-2008 Copyright by HDW Enterprises, Inc. - All Rights Reserved.
HDW Enterprises, Inc., Cameron Park, CA 95682 Phone: (530) 672-CATZ
http://www.hdw-inc.com E-mail: holly@hdw-inc.com