THE SAVANNAH KINGS OF FOOTHILL FELINES
HDW ENTERPRISES &
Foothill Felines Bengals/Savannahs

Select Exotics Sir Patrick McSpots of Foothill Felines
FOOTHILL FELINES BENGALS & SAVANNAHS
P.O. Box 418104, Sacramento, CA 95841-8104, U.S.A.
(916) 481-CATS Phone/Fax; E-mail: holly@hdw-inc.com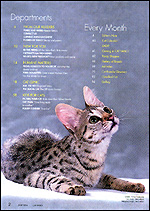 OUR SAVANNAHS ARE "CAT FANCY" STARS!!
Sandy Spots & Sunny Spots in June 2004 Issue of
CAT FANCY Magazine, Pgs 1 & 2 (Table of Contents)
Click on Photos Above for Larger Images
We are very proud to share our treasured Savannah breeding king of FOOTHILL FELINES SAVANNAHS with you. Just CLICK ON ANY PICTURE for more photos/details about that cat!! (Cats listed below the line as "Reference" are no longer whole breeding queens at our cattery.) To see pictures and links to more information about our BENGAL KINGS, please CLICK HERE.)
SELECTEXOTICS SIR PATRICK MC SPOTS OF FOOTHILL FELINES

This adorable boy is our first Savannah male here at Foothill Felines. We want to thank Dale and Holly Hummel of Select Exotics Cattery in Chatsworth, Illinois, for their outstanding efforts and work with this exciting new breed, as evidenced yet again by this delightful Savannah boy!!


Photo by Jim.
FOOTHILL FELINES BENGALS & SAVANNAHS
P.O. Box 418104, Sacramento, CA 95841-8104, U.S.A.
(916) 481-CATS Phone/Fax; E-mail: holly@hdw-inc.com
HOME | HOME (FRAMES VERSION) | BENGAL CATS | BENGAL & CAT CHAT | FREE BENGAL CAT SCREENSAVER | AVAILABLE BENGAL KITTENS & CATS | BENGAL KITTEN PHOTO ALBUMS | FUTURE LITTERS
FELINE BEHAVIOR | BREEDING & CARE | CAT SHOWS | FELINE HEALTH | PET ODORS & ALLERGIES
UNIQUE CAT ACCESSORIES | THE BENGAL SPOT® | CAT BEDS | CAT BOOKS | CAT FURNITURE | CAT TOYS & CATNIP | CHRISTMAS IS FOR CATS!® | SCAT MATS | VIDEO CATNIP | CAT WALKING JACKETS
BIG CATS | CAT NAMES | FELINE FUN FACTS | HOW TO ORDER | THE "KITTY TIMES" WEBSITE REVIEW | MARSHA'S WEB PAGE DESIGN® | MONTHLY SPECIALS | THOUGHT FOR THE WEEK
ABOUT US | CELEBRITY CORNER | E-MAIL US | GIVE US FEEDBACK | HOT LINKS | REGISTER FOR FREE GIFT | WEBMISTRESS
© 1996-2008 Copyright by HDW Enterprises, Inc. - All Rights Reserved.
HDW Enterprises, Inc., P.O. Box 418104, Sacramento, CA 95841-8104 (916) 481-CATS ph/fax
http://www.hdw-inc.com e-mail: holly@hdw-inc.com