BENGAL CAT HEALTH CORNER
HDW ENTERPRISES &
Foothill Felines Bengals/Savannahs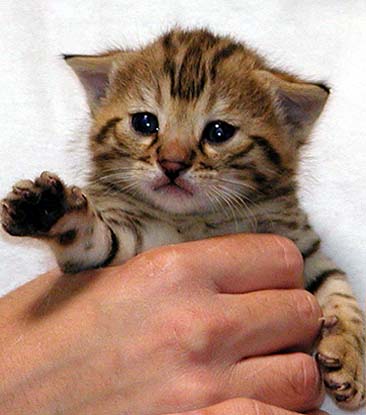 Handsome Foothill Felines male Savannah kitten
(PLEASE NOTE: We are NOT veterinarians!! However, we want to share our personal research and experiences regarding these important feline health issues with other cat-lovers!! We will be updating this page often!! Send us your ideas and any comments!!)
FOOTHILL FELINES BENGALS & SAVANNAHS
Cameron Park, CA 95682 U.S.A.
E-mail: holly@hdw-inc.com

~ Click on image above to order this uniquely powerful nutritional supplement for felines at our Foothill Felines breeder discount. Used and recommended by Foothill Felines, for vibrant results with all ages, weights and breeds of cats. Developed by scientists, veterinarians and formulators to enhance the health and lives of cats, this unique Nu- Vet supplement contains many important minerals, antioxidants, enzymes and vitamins INCLUDING taurine, calcium, blue green algae, brewer's yeast, and much more.


FELIWAY PLUG-INS & SPRAY


~ Click on links above to order these exceptionally calming products for felines. Used and recommended by Foothill Felines!! Wonderful for cats of all ages, weights, and breeds of cats. Contains natural cat pheromones for stress relief and eliminating need for cats and kittens to mark or exhibit other unwanted behaviors.
© 1996-2015 Copyright by HDW Enterprises - All Rights Reserved.


HDW Enterprises, CameronPark, CA 95682 U.S.A.
http://www.hdw-inc.com e-mail: holly@hdw-inc.com