UPDATES ON OUR M&M's
FROM THEIR PROUD OWNERS AND FAMILIES!

Send us Your
M&M's Updates!!
FOOTHILL FELINES MACY!!
Ed Kerr's very special family in lovely San Francisco, California, just keeps growing!! With his roommate Michael, and cats Spike, Ajax, Dweezil, Beastie, and Foothill Felines Mobi (click here for Mobi's update page, and to learn more about Ed's cats), Ed came to visit us this spring just to see our new baby M&M's. Adding to his family was really not in the cards ... until, that is, he met Macy and Midas!! He was absolutely taken by Macy's wild coloring, contrast and beauty, and both Ed and Michael fell totally in love with little Midas, and his wonderful grin and charisma. We agreed these two kittens should go as a pair, and that we would, for now, co-own Macy with Ed, as we think that she has enormous potential for showing and possible breeding!

"I had Mobi, Ajax, Dweezil, Macy and Midas all playing with the fishing lure toy together this afternoon. The kittens stayed on one side, the older cats on the other, but they were all playing within a foot of each other. This seemed to help a lot. I'd heartily recommend this toy a really effective ice breaker when introducing a new kitten or cat. Macy spent an hour on Michael's lap this evening while he was working on his computer. Dweezil is such a godsend with kittens. He's absolutely persistent about getting acquainted, but not aggressive and very gentle. He let them hiss, growl and swat at him and just kept coming back for more. He followed them around and would lay down about two feet from them every time they'd settle in someplace," Ed wrote us about Day 2 with the kittens in their new home.

"I've attached a photo of Mobi playing with the two kittens, and some others of Macy. Look at that face. More than a bit of the ALC influence there, wouldn't you say? She is just so incredibly beautiful. She has got such a wild little face! Her whisker pads are already very puffy and she's got that wonderful ALC Roman nose and egg shaped head. If the judges can get over their bias towards the rufoused glittered cats and really look at her for that incredible subtle wild coloring and that wild face, she should show very well. I was looking at Macy the other night and trying to analyze what is so unique about her coloring. It suddenly hit me. She doesn't have any coloring found in domestic cats at all. She reminds me of the light colored German Shepherds our neighbors used to have when I was a kid. She's got that background that is the color of sun-bleached bone, that light chestnut brown as the tri-color to the black markings, those orange-rust ears and her underside which is a color I've never seen in a cat, that very pale creamy off-yellow. I'm just amazed by the all the color that's going on, colors you don't see in domestic cats."
Mobi, Macy and Midas - all from Foothill Felines!
Lovely Macy at 16 weeks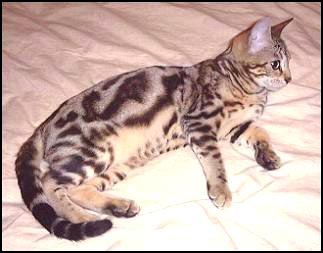 Macy at 16 weeks
Foothill Felines Macy & Foothill Felines Mobi
HDW ENTERPRISES & "FOOTHILL FELINES BENGALS"
P.O. Box 418104, Sacramento, CA 95841-8104
(916) 481-CATS phone & fax
world-wide web address: http://www.hdw-inc.com
E-Mail Us at: holly@hdw-inc.com, or kittens@hdw-inc.com

CLICK HERE To Return to "UPDATES ON YOUR FAVORITE M&M's"!!
CLICK HERE For Our Planned Future Litters Of ADORABLE BENGALS!!
CLICK HERE to give us your comments, requests, and to place a "no-obligation" request for a Bengal from Foothill Felines. We want to hear from you, and what YOU are looking for in a Bengal!!
Foothill Felines Bengals: "Stalking the Majesty of Nature; Inspired by the Heart!"

HOME | HOME (FRAMES VERSION) | BENGAL CATS | BENGAL & CAT CHAT | FREE BENGAL CAT SCREENSAVER | AVAILABLE BENGAL KITTENS & CATS | BENGAL KITTEN PHOTO ALBUMS | FUTURE LITTERS | SAVANNAH CATS
FELINE BEHAVIOR | BREEDING & CARE | CAT SHOWS | FELINE HEALTH | PET ODORS & ALLERGIES
UNIQUE CAT ACCESSORIES | THE BENGAL SPOT® | CAT BEDS | CAT BOOKS | CAT FURNITURE | CAT TOYS & CATNIP | CHRISTMAS IS FOR CATS!® | SCAT MATS | VIDEO CATNIP | CAT WALKING JACKETS | KITCHEN SINK STORE
BIG CATS | CAT NAMES | FELINE FUN FACTS | HOW TO ORDER | THE "KITTY TIMES" WEBSITE REVIEW | MARSHA'S WEB PAGE DESIGN® | MONTHLY SPECIALS | THOUGHT FOR THE WEEK
ABOUT US | CELEBRITY CORNER | E-MAIL US | GIVE US FEEDBACK | HOT LINKS | REGISTER FOR FREE GIFT | WEBMISTRESS
© 1997-2003 Copyright by HDW Enterprises, Inc. - All Rights Reserved.


HDW Enterprises, Inc., P.O. Box 418104, Sacramento, CA 95841-8104 (916) 481-CATS ph/fax
http://www.hdw-inc.com e-mail: holly@hdw-inc.com