UPDATES ON OUR M&M's
FROM THEIR PROUD OWNERS AND FAMILIES!

Send us Your
M&M's Updates!!
FOOTHILL FELINES MOBI!!
When Ed Kerr first contacted us, and said he wanted a beautiful, show quality marble male kitten, little did we know how purr-fectly things would work out!! With Ed and Mobi, it was love at first sight...however, there were 4 other male cats who resided in San Francisco with Ed and his roommate, Michael, that Mobi would also have to win over.

Here are some of Ed's comments to us regarding their first full day together: "Well, we got him home in one piece. We put him in the bathroom when we got him home, but this keeping the cats separated did not work. Dweezil got into the bathroom within 5 minutes, ran over to Mobi and started cleaning him immediately. Mobi did NOT want to stay in the bathroom and took a trip around the entire house with Dweezil in tow."

"The other cats are reacting precisely as I predicted. Beastie is hissing and growling at everyone (much more the other cats, not Mobi). Spike is hissing at Mobi, but very feebly. He'll be fine in a day. Ajax is hissing at everyone, particularly Mobi. HOWEVER, he is not being at all aggressive and seems to be going about normal activities like playing in sacks and chasing his crinkle ball. In fact Michael had everyone but Spike playing with the Whirly Bird at the same time, an occasional hiss or two, but no real aggression. Mobi is just being a real trooper. He's not at all fazed by the other cats."

"Right now as I'm typing this, Mobi is sleeping on my lap. He seems like he is going to be very much the lap cat (all my older cats like attention and affection, but only Spike is really a lap cat). He also seems like he's going to have a wonderful temperament. He handled being in this new environment so well. I was sitting earlier with him under a fairly intense overhead halogen light, and...my lord...is that boy glittered! I think I like glitter better in the marbles than in the spotteds. It just seems to work better with the pattern. Anyway, every time I look at him I am just stunned by how beautiful he is. I am so glad that I didn't shy away from getting a marble!"

And, after Day Two: "Took Mobi to the vets this morning. The vet and his vet tech were both just astounded by him. He said he'd never seen any cat like Mobi and I could tell he wasn't just saying that to be nice. He thought he had a really unusual face (I guess I'm so used to seeing Bengals that they don't look wild to me anymore). He also said he'd never seen feet like his (he does have huge wild looking toes). The vet said he was fine health-wise."

"Well, I'm even more thrilled than I was Saturday. Mobi is such an outgoing, positive little guy. I think he's going to be a very intelligent cat. I'm just so thrilled by Mobi and just continue to be amazed at what an even tempered, bright little guy he is."

Ed entered Mobi in his first T.I.C.A. cat show early in November 1998 (Mobi competed in the Kitten Class, as he was 5 months old). How did Mobi do??? Let's ask Ed ... "Hi Holly, well Day One is over and I made it through ok. So did Mobi and Dweezil. A friend gave me a ride this morning since I couldn't drive today. Got the cage setup, put Mobi and Dweezil in. Mobi behaved relatively well for the first judge, which was good because nobody had warned me that I had to have the back claws clipped. A lady next to me helped me clip his claws before the second judging. He was much more relaxed after that and things went very well as far as showing behavior goes. When I started looking around at the Bengal kittens he would be competing with, I was really dismayed. They were so much bigger than he was, even the four month old was half again as big. And there were some spectacular marbles there. I was sure Mobi would end up not doing well at all, but he showed very well!!! In 4 out of 5 rings, he placed second in color (keep in mind, there were 6 very good marble kittens being shown). He also placed 2nd in division for the marble kittens 2 times. On the last ring he was 3rd in color and 3rd best overall Bengal kitten. Additionally, the judge for the 4th ring took me aside after she finished judging the kittens and told me what a sweet, wonderful personality he had and what a joy it was to judge him, that he was the best behaved Bengal kitten she had ever judged (there was a huge hissing and howling session going on between 3 of the kittens and Mobi just sat there through it unfazed). The fact that he did so well (and so consistently well....there was no wild swing in different judges opinion of him) makes me very pleased (and hopefully you are as well). Dweezil, by the way, was the hit of the show. He was shameless, tried to get anyone who went by to pet him. One of the breeders there told me I should bring Mobi back a second day, that it would be good for him socially. So, hopefully I will have a Day Two report for you tomorrow."

And, the Day Two Report: "Mobi was much more relaxed, both in the cage and in the ring. Mobi again consistently got very good ratings in the color category (three seconds, two thirds). So that makes a total of 7 seconds and 3 thirds in his "color", which isn't bad at all considering there were a lot of marble kittens at this show (more than spotteds). I also learned a little bit more about scoring in the kitten class and now realize some of what I said last night was wrong. I thought that there were separate division awards for marbles and spotteds, but that is only in the color category. So Mobi came in 2nd BEST OVERALL BENGAL KITTEN in 3 rings (including specialty on Saturday) and 3rd best in 2 rings (including specialty on Sunday, all breed on Saturday)! The thing I really am impressed with was that the ratings were so consistent between judges. I think that says a lot. A couple of the exhibiting breeders came over to see Mobi when I mentioned he was a Kimo grandson. I brought his pedigree along, so I could answer all of their questions. They were very impressed by his heritage (one of the breeders had a Kimo grandson showing as well and was very impressed by Merlot's pedigree). All in all, I really enjoyed showing and would do it again when the time was right."

Here are some wonderful digital photos from Ed, starting with Ed and 12 weeks old Mobi; then Mobi's acceptance by each of Ed's other cats; then showing Mobi as he grows up!!
Ed and Mobi
Mobi and Beastie Boy
Mobi and Dweezil
Mobi and Spike
Mobi and Ajax
Mobi at 4 months old
Naughty Mobi at 7 months old
Mobi at 1 year old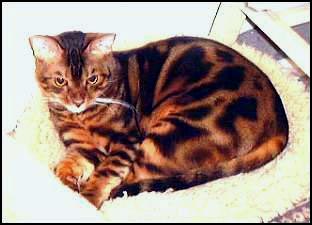 Mobi at 1 1/2 years old
HDW ENTERPRISES & "FOOTHILL FELINES BENGALS"
P.O. Box 418104, Sacramento, CA 95841-8104
(916) 481-CATS phone & fax
world-wide web address: http://www.hdw-inc.com
E-Mail Us at: holly@hdw-inc.com, or kittens@hdw-inc.com

CLICK HERE To Return to "UPDATES ON YOUR FAVORITE M&M's"!!
CLICK HERE For Our Planned Future Litters Of ADORABLE BENGALS!!
CLICK HERE to give us your comments, requests, and to place a "no-obligation" request for a Bengal from Foothill Felines. We want to hear from you, and what YOU are looking for in a Bengal!!
Foothill Felines Bengals: "Stalking the Majesty of Nature; Inspired by the Heart!"

HOME | HOME (FRAMES VERSION) | BENGAL CATS | BENGAL & CAT CHAT | FREE BENGAL CAT SCREENSAVER | AVAILABLE BENGAL KITTENS & CATS | BENGAL KITTEN PHOTO ALBUMS | FUTURE LITTERS | SAVANNAH CATS
FELINE BEHAVIOR | BREEDING & CARE | CAT SHOWS | FELINE HEALTH | PET ODORS & ALLERGIES
UNIQUE CAT ACCESSORIES | THE BENGAL SPOT® | CAT BEDS | CAT BOOKS | CAT FURNITURE | CAT TOYS & CATNIP | CHRISTMAS IS FOR CATS!® | SCAT MATS | VIDEO CATNIP | CAT WALKING JACKETS | KITCHEN SINK STORE
BIG CATS | CAT NAMES | FELINE FUN FACTS | HOW TO ORDER | THE "KITTY TIMES" WEBSITE REVIEW | MARSHA'S WEB PAGE DESIGN® | MONTHLY SPECIALS | THOUGHT FOR THE WEEK
ABOUT US | CELEBRITY CORNER | E-MAIL US | GIVE US FEEDBACK | HOT LINKS | REGISTER FOR FREE GIFT | WEBMISTRESS
© 1997-2003 Copyright by HDW Enterprises, Inc. - All Rights Reserved.


HDW Enterprises, Inc., P.O. Box 418104, Sacramento, CA 95841-8104 (916) 481-CATS ph/fax
http://www.hdw-inc.com e-mail: holly@hdw-inc.com