FOOTHILL FELINES SAVANNAHS
The Serval Cat
Social Behavior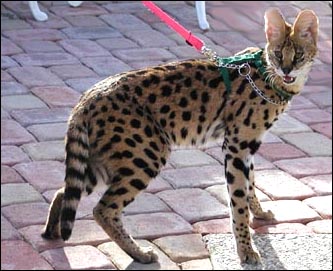 The African Serval Cat
SOCIAL BEHAVIOR:

Male and female servals each maintain separate territories and basically lead very solitary lives. Female servals hold exclusive territories from about two to two and a half square miles in area. Male territories are usually twice the size of the female, and will overlap two or more female territories. Boundaries are clearly defined with frequent scent and scrape marks. Servals continually spray with urine to mark their territories. This is a very effective warning to a serval from an overlapping territory to keep its distance when it encounters the sprayed markings of the first serval. Male servals have been observed to display very ritualistic aggression behavior, by sitting and facing one another as one animal puts his front paw on the other's chest. The second serval then bobs his head and may bite the upraised paw. This exchange can escalate into a full fight, but more often remains as a protracted stare-off. When defending themselves, these cats will growl loudly and arch their backs. Adult males have also been observed to display some affectionate social behavior, by resting together during the day.

Servals are considered to be mostly nocturnal, hunting by relying upon their senses of sight and sound more than scent. In areas where the habitat and routine of the serval cat has not been altered or disturbed by human activities, they can also be found hunting and being active at dawn and again at dusk. Servals enjoy hunting their food, and will sometimes play with their prey before eating it.

Growling, snarling, spitting and purring are among the many interesting and varied sounds and noises made by the serval. Servals also use a special high pitched cry when they are calling to other serval cats.


CONTACT US if you'd like more detailed information about how to purchase a pedigreed Savannah kitten from Foothill Felines!! We promise to work very hard on your behalf to help you find the best fit possible in a wonderful Savannah kitten or cat for YOUR special family circumstances!!

* Have You Got Savannah Fever?? * Well, take a peek at the new Savannah Cats portion of our website - FOOTHILL FELINES SAVANNAHS!! This is a fun way to learn more about this exciting new breed of cat, and watch our Savannah program grow while waiting for our next litters to arrive!! And be sure to watch for new website updates and announcements in the WHAT'S MEW section of our website!!

CLICK HERE to see current photos and read wonderful updates and testimonials from over 70 families and customers of Foothill Felines Bengals who have purchased a kitten(s) or Retired Breeder from us!!

CLICK HERE to take a look at our planned future litters of ADORABLE Bengals and Savannahs!!
HDW ENTERPRISES & "FOOTHILL FELINES SAVANNAHS"
P.O. Box 418104, Sacramento, CA 95841-8104
(916) 481-CATS phone & fax
world-wide web address: http://www.hdw-inc.com
e-mail us at: holly@hdw-inc.com, or kittens@hdw-inc.com



Foothill Felines Bengals & Savannahs: "Stalking the Majesty of Nature; Inspired by the Heart!"

HOME | HOME (FRAMES VERSION) | BENGAL CATS | BENGAL & CAT CHAT | FREE BENGAL CAT SCREENSAVER | AVAILABLE BENGAL KITTENS & CATS | BENGAL KITTEN PHOTO ALBUMS | FUTURE LITTERS | SAVANNAH CATS
FELINE BEHAVIOR | BREEDING & CARE | CAT SHOWS | FELINE HEALTH | PET ODORS & ALLERGIES
UNIQUE CAT ACCESSORIES | THE BENGAL SPOT® | CAT BEDS | CAT BOOKS | CAT FURNITURE | CAT TOYS & CATNIP | CHRISTMAS IS FOR CATS!® | SCAT MATS | VIDEO CATNIP | CAT WALKING JACKETS
BIG CATS | CAT NAMES | FELINE FUN FACTS | HOW TO ORDER | THE "KITTY TIMES" WEBSITE REVIEW | MARSHA'S WEB PAGE DESIGN® | MONTHLY SPECIALS | THOUGHT FOR THE WEEK
ABOUT US | CELEBRITY CORNER | E-MAIL US | GIVE US FEEDBACK | HOT LINKS | REGISTER FOR FREE GIFT | WEBMISTRESS
© 2002-4 Copyright by HDW Enterprises, Inc. - All Rights Reserved.


HDW Enterprises, Inc., P.O. Box 418104, Sacramento, CA 95841-8104 (916) 481-CATS ph/fax
http://www.hdw-inc.com e-mail: holly@hdw-inc.com