FOOTHILL FELINES SAVANNAHS
The Serval Cat
Reproduction and Development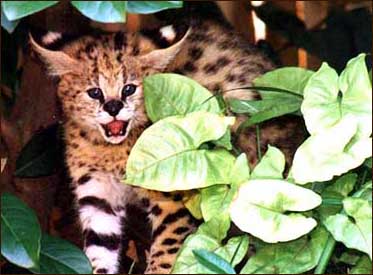 African Serval Kitten
REPRODUCTION AND DEVELOPMENT:

The female serval will display strong signs of estrus behavior over a period of 4 days. This is usually the only time that servals will be found together in pairs, while the act of mating takes place. After having mated with a male serval, the female will then give birth to a litter of from 1 to 5 kittens (average litter size is 2 kittens) after a gestation period of from 67 to 79 days. She will have her kittens in a protected den or lair, surrounded by dense vegetation or in an abandoned burrow; however, she will move them to new hiding places frequently after birth to protect them. Like the cheetah, the mother serval will raise her kittens by herself, and must leave them when she hunts. The kittens will usually weigh between 8.5 and 9 ounces at birth, and will open their eyes at around 9 days old.

The baby servals will start to eat solid foods at about 3 weeks old, and are considered independent and completely weaned by the time they are 6 to 8 months old, at which time they have their full set of adult teeth. Serval kittens will become sexually mature between 18 and 24 months of age. The female kittens will stay with their mother until they do obtain sexual maturity; then the mother determines that they must leave her territory and start their own. The male kittens are forced out from the mother's territory as soon as they are able to hunt on their own.


CONTACT US if you'd like more detailed information about how to purchase a pedigreed Savannah kitten from Foothill Felines!! We promise to work very hard on your behalf to help you find the best fit possible in a wonderful Savannah kitten or cat for YOUR special family circumstances!!

* Have You Got Savannah Fever?? * Well, take a peek at the new Savannah Cats portion of our website - FOOTHILL FELINES SAVANNAHS!! This is a fun way to learn more about this exciting new breed of cat, and watch our Savannah program grow while waiting for our next litters to arrive!! And be sure to watch for new website updates and announcements in the WHAT'S MEW section of our website!!

CLICK HERE to see current photos and read wonderful updates and testimonials from over 70 families and customers of Foothill Felines Bengals who have purchased a kitten(s) or Retired Breeder from us!!

CLICK HERE to take a look at our planned future litters of ADORABLE Bengals and Savannahs!!
HDW ENTERPRISES & "FOOTHILL FELINES SAVANNAHS"
P.O. Box 418104, Sacramento, CA 95841-8104
(916) 481-CATS phone & fax
world-wide web address: http://www.hdw-inc.com
e-mail us at: holly@hdw-inc.com, or kittens@hdw-inc.com



Foothill Felines Bengals & Savannahs: "Stalking the Majesty of Nature; Inspired by the Heart!"

HOME | HOME (FRAMES VERSION) | BENGAL CATS | BENGAL & CAT CHAT | FREE BENGAL CAT SCREENSAVER | AVAILABLE BENGAL KITTENS & CATS | BENGAL KITTEN PHOTO ALBUMS | FUTURE LITTERS | SAVANNAH CATS
FELINE BEHAVIOR | BREEDING & CARE | CAT SHOWS | FELINE HEALTH | PET ODORS & ALLERGIES
UNIQUE CAT ACCESSORIES | THE BENGAL SPOT® | CAT BEDS | CAT BOOKS | CAT FURNITURE | CAT TOYS & CATNIP | CHRISTMAS IS FOR CATS!® | SCAT MATS | VIDEO CATNIP | CAT WALKING JACKETS
BIG CATS | CAT NAMES | FELINE FUN FACTS | HOW TO ORDER | THE "KITTY TIMES" WEBSITE REVIEW | MARSHA'S WEB PAGE DESIGN® | MONTHLY SPECIALS | THOUGHT FOR THE WEEK
ABOUT US | CELEBRITY CORNER | E-MAIL US | GIVE US FEEDBACK | HOT LINKS | REGISTER FOR FREE GIFT | WEBMISTRESS
© 2002-4 Copyright by HDW Enterprises, Inc. - All Rights Reserved.


HDW Enterprises, Inc., P.O. Box 418104, Sacramento, CA 95841-8104 (916) 481-CATS ph/fax
http://www.hdw-inc.com e-mail: holly@hdw-inc.com