UPDATES ON OUR M&M's
FROM THEIR PROUD OWNERS AND FAMILIES!

Send us Your
M&M's Updates!!
FOOTHILL FELINES MIKKI!!
Mikki's story is a wonderful example of how it can often work well for both a special family and a cat breeder to have the family adopt an adult, retired breeder cat. In this case, we had kept lovely Mikki, a full sister to Foothill Felines Metallica, for breeding purposes, and were looking forward to her kittens. There were so many things about Mikki that we really liked, and wanted in our Bengal breeding program. However, when she came of age, and we tried to breed her, she did not seem able to become pregnant. As breeders, this of course concerned us greatly, and we decided to spay her, rather than keep working on this, as she was miserable, in a constant heat, and we also realized that since she did have these difficulties, the possibility existed that she could pass on this difficulty in her kittens.

From the first time we communicated with Kathy and Ted R. in Austin, Texas, we knew that this was the family for Mikki. Not only did they really appreciate her specialness and beauty, they had just recently suffered the devastating loss of their beloved 16 year old kitty AND her 17 year old mother. Kathy wrote us, "I didn't think I would ever want another cat when Oma died but I missed her very much so I made a trip to the local Humane Society. I came home with a one year old tabby which I named Mandi. Having a young cat in the house has definitely been an experience. (all that energy!) Both Oma and Taffye were declawed and spayed. Of course Mandi is spayed. She still has her claws which we are trying to adjust to. She has so much energy and both my husband and I work all day. I am thinking a roommate would be very nice for her. Something about Mikki's eyes drew me to her. I don't know anything about Bengal cats other than seeing their pictures on a poster in the vet's office. I would be very much interested in being considered for the adoption of Mikki. We also have two small indoor dogs which get along very well with the cats. We live in a three bedroom home with no children so the animals have the run of the place. All my animals have rules they have to obey but my husband says I also spoil them rotten."

"When my Oma died and I decided I wanted another cat my husband was worried I had picked out a kitten. He was happy when he found out I hadn't because he is such a worrier and he would be constantly worrying about stepping on a kitten or the kitten going under his recliner while it is up, etc........ (not that he doesn't have to double check now to make sure one of the dogs or Mandi isn't under there but they are easier to spot than a tiny kitten). I know that I am not trying to replace my kitties, I am only filling in another niche in my heart. This time it is a little different. Most of my pets have come from the Humane Society and I have felt like I was saving a life. In this case I know Mikki already has a very good life and she will be saving me."

We let Mikki heal from her spay surgery, and when all the arrangements were made, sent her to Austin Texas. "Hi Holly, Just a short note to let you know Mikki made it safe and sound. I petted her all the way home. She has already eaten and is checking out the surroundings. She didn't even flinch when I let the dogs say hi while she was still in her cage. Mandi said hi and then sat down on the floor and snarled. She will come around. She is just a little jealous right now I am sure. Mikki is absolutely beautiful. Her eyes are more lovely than her even her picture portrayed. I gave her a hug for you. She is already trying to reach a brass butterfly I have on the wall in what I call the "cats" bathroom. Thank you so much! I will send pictures soon." Mikki is now known as NIKKI, and as you can see from the photos below, is delighted with her new home and family, including new best friend Mandi.
Wonderful home designed & built cat tree!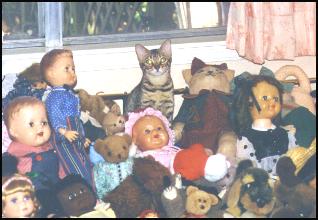 Mikki hiding in Kathy's doll collection!
Mikki, like most Bengals, loves to be up high!
Mikki and Mandi, best friends!
Mikki, now known as Nikki, totally content!
HDW ENTERPRISES & "FOOTHILL FELINES BENGALS"
P.O. Box 418104, Sacramento, CA 95841-8104
(916) 481-CATS phone & fax
world-wide web address: http://www.hdw-inc.com
E-Mail Us at: holly@hdw-inc.com, or kittens@hdw-inc.com

CLICK HERE To Return to "UPDATES ON YOUR FAVORITE M&M's"!!
CLICK HERE For Our Planned Future Litters Of ADORABLE BENGALS!!
CLICK HERE to give us your comments, requests, and to place a "no-obligation" request for a Bengal from Foothill Felines. We want to hear from you, and what YOU are looking for in a Bengal!!
Foothill Felines Bengals: "Stalking the Majesty of Nature; Inspired by the Heart!"

HOME | HOME (FRAMES VERSION) | BENGAL CATS | BENGAL & CAT CHAT | FREE BENGAL CAT SCREENSAVER | AVAILABLE BENGAL KITTENS & CATS | BENGAL KITTEN PHOTO ALBUMS | FUTURE LITTERS | SAVANNAH CATS
FELINE BEHAVIOR | BREEDING & CARE | CAT SHOWS | FELINE HEALTH | PET ODORS & ALLERGIES
UNIQUE CAT ACCESSORIES | THE BENGAL SPOT® | CAT BEDS | CAT BOOKS | CAT FURNITURE | CAT TOYS & CATNIP | CHRISTMAS IS FOR CATS!® | SCAT MATS | VIDEO CATNIP | CAT WALKING JACKETS | KITCHEN SINK STORE
BIG CATS | CAT NAMES | FELINE FUN FACTS | HOW TO ORDER | THE "KITTY TIMES" WEBSITE REVIEW | MARSHA'S WEB PAGE DESIGN® | MONTHLY SPECIALS | THOUGHT FOR THE WEEK
ABOUT US | CELEBRITY CORNER | E-MAIL US | GIVE US FEEDBACK | HOT LINKS | REGISTER FOR FREE GIFT | WEBMISTRESS
© 1997-2003 Copyright by HDW Enterprises, Inc. - All Rights Reserved.


HDW Enterprises, Inc., P.O. Box 418104, Sacramento, CA 95841-8104 (916) 481-CATS ph/fax
http://www.hdw-inc.com e-mail: holly@hdw-inc.com