THE SAVANNAH QUEENS OF FOOTHILL FELINES
HDW ENTERPRISES &
Foothill Felines Bengals/Savannahs

Select Exotics Sunny Spots of Foothill Felines
FOOTHILL FELINES BENGALS & SAVANNAHS
P.O. Box 418104, Sacramento, CA 95841-8104, U.S.A.
(916) 481-CATS Phone/Fax; E-mail: holly@hdw-inc.com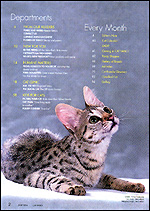 OUR SAVANNAHS ARE "CAT FANCY" STARS!!
Sandy Spots & Sunny Spots in June 2004 Issue of
CAT FANCY Magazine, Pgs 1 & 2 (Table of Contents)
Click on Photos Above for Larger Images
We are very proud to share the beautiful Savannah breeding queens of FOOTHILL FELINES SAVANNAHS with you. Just CLICK ON ANY PICTURE for more photos/details about that cat!! (Cats listed below the line as "Reference" are no longer whole breeding queens at our cattery.) To see pictures and links to more information about our BENGAL QUEENS, please CLICK HERE.)
SELECTEXOTICS SUNNY SPOTS OF FOOTHILL FELINES

This stunning girl and fabulous mother came to us from Select Exotics cattery. We just love her beautiful ears, serval coloring, light tummy, black spots, and wonderful personality that has us completely enchanted!!


Photo by Cris Kelly.

FOOTHILL FELINES SPOOKY SPOTS

Our own silver spotted Savannah girl Spooky is a daughter of Sandy Spots and full littermate sister to Summer Spots. Spooky has gorgeous crisp contrast, very dark, random spotting, and a very sleek, short, clear coat without any trace of tarnish!! Everyone who sees her is absolutely stunned by her beauty.


Photo by Jim.

FOOTHILL FELINES SAFARI SPOTS

Our amazing Safari is also out of Sunny Spots and Major Mews. Safari's strengths are her wonderful, wild looking hooded copper eyes; her ears set right on top of her head; her gorgeous golden Serval color which includes a whited underside, and her cuddly, loving personality!!


Photo by Tammie Ekkelboom.


FOOTHILL FELINES SHELBY SPOTS

This black nosed, inky black spotted girl is out of Spooky Spots and Major Mews. Shelby is extremely wild looking for an F4 generation, and we are very proud of her dramatic markings, great bone and type, and her wonderful temperament.


Photo by Tammie Ekkelboom.

---
REFERENCE: FOOTHILL FELINES SMARTY SPOTS
(now owned by Leopardprint Cats in Suisun, CA)

This brown spotted girl is a daughter of Sunny Spots and she is a full sister to Scampurr Spots. Smarty has excellent contrast with beautiful dark spots; we also love her cheetah teardrop markings, solid yet long body type and her delightful temperament.


Photo by Jim.

REFERENCE: FOOTHILL FELINES SINDER SPOTS
(Retired)

This unusual black smoke spotted girl was bred and born here at Foothill Felines. Her mother is Scampurr Spots, and her father is Monsoon. It's rare to see a black smoke Savannah, but this is an accepted and much valued color in the Savannah breed standard. Sinder's temperament is as unique as her coloring.


Photo by Jim.

REFERENCE: FOOTHILL FELINES SCAMPURR SPOTS
(Retired)

This adorable girl was the first Savannah born here of our own breeding. We are especially delighted with her large serval ears, long serval body and proportions, terrific head shape and type, her gorgeous 'cheetah' teardrop markings and her fun-loving personality. She always kept us on our toes.


Photo by Jim.

REFERENCE: SELECTEXOTICS SANDY SPOTS OF FOOTHILL FELINES
(Retired)

This incredibly special girl was our first Savannah here at Foothill Felines, and started us on our Savannah breeding program journey. We want to thank Dale and Holly Hummel of Select Exotics Cattery in Chatsworth, Illinois, for their outstanding efforts and work with this exciting new breed, as evidenced by Sandy.

REFERENCE: FOOTHILL FELINES SUMMER SPOTS
(now in Indiana)

Summer Spots is also from our own breeding, and she and Spooky Spots are the only two daughters ever born to our Sandy Spots. Summer's mother is Sandy Spots, and her father is Koppiekatz Silver Sir of SimplySimes.


Photo by Jim.
FOOTHILL FELINES BENGALS & SAVANNAHS
P.O. Box 418104, Sacramento, CA 95841-8104, U.S.A.
(916) 481-CATS Phone/Fax; E-mail: holly@hdw-inc.com
HOME | HOME (FRAMES VERSION) | BENGAL CATS | BENGAL & CAT CHAT | FREE BENGAL CAT SCREENSAVER | AVAILABLE BENGAL KITTENS & CATS | BENGAL KITTEN PHOTO ALBUMS | FUTURE LITTERS
FELINE BEHAVIOR | BREEDING & CARE | CAT SHOWS | FELINE HEALTH | PET ODORS & ALLERGIES
UNIQUE CAT ACCESSORIES | THE BENGAL SPOT® | CAT BEDS | CAT BOOKS | CAT FURNITURE | CAT TOYS & CATNIP | CHRISTMAS IS FOR CATS!® | SCAT MATS | VIDEO CATNIP | CAT WALKING JACKETS
BIG CATS | CAT NAMES | FELINE FUN FACTS | HOW TO ORDER | THE "KITTY TIMES" WEBSITE REVIEW | MARSHA'S WEB PAGE DESIGN® | MONTHLY SPECIALS | THOUGHT FOR THE WEEK
ABOUT US | CELEBRITY CORNER | E-MAIL US | GIVE US FEEDBACK | HOT LINKS | REGISTER FOR FREE GIFT | WEBMISTRESS
© 1996-2008 Copyright by HDW Enterprises, Inc. - All Rights Reserved.
HDW Enterprises, Inc., P.O. Box 418104, Sacramento, CA 95841-8104 (916) 481-CATS ph/fax
http://www.hdw-inc.com e-mail: holly@hdw-inc.com