Proudly Presented By
HDW ENTERPRISES & Foothill Felines Bengals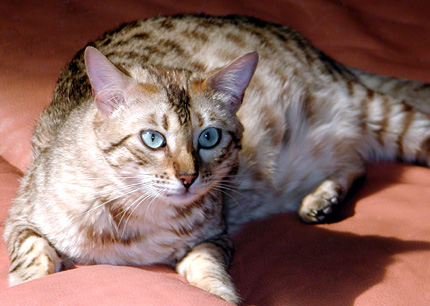 Foothill Felines Mochamelo, our gorgeous Quad Champion seal mink snow Bengal.
This is our story of the adventuresome weekend we had in November 2002 attending the terrific show in Reno, Nevada, put on by Silver Cats!! While we hope to entertain you, it is also our goal to provide a bit of color and detail about what it's like to actually enter your cats in a show.
Brrrrrring!!!!! 2:45 am on Saturday morning, and the alarm clock is letting me know it is time to get up. I think briefly about hitting the 'snooze' button, but realize that this is probably not in my best interest as I have a big weekend ahead of me!! I've signed up to enter 2 of my cats in a 2 day cat show in Reno, Nevada!! I get out of bed, notice that it is foggy outside, and start the daily morning rituals of feeding all our cats. Fresh wet food, fresh dry food, fresh filtered water, scooping a million litterboxes, vaccuuming, and cleaning the stud pens. Then, time for a quick half cup of coffee, and into the shower. After getting dressed (in my finest cat show apparel -- for this show, I have a special tee-shirt made with Manzanita on the front and our cattery name on the back), I double check that my bags are all packed and ready; my collapsible show cage in it's bag, my show accessory bag with the food, water, litter, bowls, litterpans, beds, hammocks, grooming brushes, business cards, etc., and my small overnight bag for myself. I also make sure I have my hotel reservation confirmation number, and driving directions to the show hall in Reno.

View of beautiful sunrise on our drive from Sacramento to Reno
Lastly, but most importantly, I make sure I have my cats!! I've entered my lovely seal mink spotted female, Foothill Felines Mochamelo, in the Bengal kitten division, and my beautiful brown marble female, Foothill Felines Manzanita, in the adult Bengal division (she turned 8 months old 2 days prior to the show, which qualified her to be in the adult class)!! Fortunately, Mochamelo and Manzanita adore each other, so I can put them together in one large carrier for the trip. I make sure I lock up the house, and know that my son will be coming over later that day to stay and take care of the cats for me while I am gone. Bags, cats and myself all get put in the car, and then we are off!! 5:00 am, right on schedule. We want to arrive in Reno about 7:30 am, in plenty of time to be sure we find our destination and get set up in the showhall before the judging starts and the public begins to arrive at 9:00 am.

It's been quite a long time since I've been up towards the Lake Tahoe and Reno area. The fog that was worrisome in Sacramento quickly evaporated as we headed out on Interstate 80, and before I know it, the girls and I are in a Winter Wonderland area with clear skies, thousands of stars, snow all around us, and the most beautiful sunrise. I stop and take some pictures around Donner Lake, of course!! Manzanita and Mochamelo are both very chatty in the car, and I have no worries about being sleepy at the wheel, between their chatter and the breathtaking view. As the sun continues to rise, we drive beyond the outskirts of Lake Tahoe, and start to enter a more desert-type of environment, although there is still some snow around the mountains. It is just a gorgeous drive!!
Lovely Donner Lake in California
We enter Reno, and I find that I have enough time to stop quickly at a Starbuck's and pick up a morning mocha. (I just LOVE "Mocha's"!!) It is about 28 degrees in Reno right now, and it's quite nice to have a warm cup of coffee to hang on to!! We arrive at the showhall, which is the Reno Livestock Events Center. The show managers are already there at 7:30 am, and the signs to the Center are very clear and well organized. Inside the Center, the heaters are already taking effect, and I, along with other "early birds", start taking in my show cage, show bag, and cats to my designated area. It is great to see everyone again; everyone is in wonderful spirits and we know it is going to be a great show. I set up my show cage, and put in fresh food and water, and am directed to where the litter is so I can also put some litter in the show cage. I set up the little hammock that Mochamelo loves so much, and their cozy fleece bed, and then I put my two girls inside so they can get used to their new surroundings and have some relaxing time before the judging starts. Mocha has been to a show before just for exhibition at 3 months old; this is her first actual show. Manzanita is an old hand at this, having been in 2 shows as a kitten. But, this is her first show as an adult.

In no time at all, the showhall is full, brimming with the excitement of all the exhibitors and the wonderful array of vendors and their booths. There are cat food vendors, cat furniture vendors, cat accessory vendors -- you name it, and you can find it here. The judges start arriving and setting up in their rings, and their clerks join them for last minute instructions and some friendly visiting. Then, the show announcer starts the show by introducing all the judges, and making the announcements of which cats listed in the catalog are absent, and any other changes we need to make a notation about. I look at the show catalog, and make a note of Mochamelo's number, and Manzanita's number, and know that I will have to listen closely to hear both numbers called over the next 2 days!! There are 6 rings, and there will be 6 new judges on Sunday. So, each kitten and each cat in the show will have 12 opportunities to be judged, and by 12 different pairs of eyes.

Showhall for TICA cat show in Reno, NV
I'm so very proud of my Bengal girls!! They both behave absolutely impeccably, and I am also extremely grateful to some of my friends who also have cats and kittens entered in the show. There are times when I am in one ring with either Manzanita or Mochamelo, and the loudspeaker announces the other number of my cats -- it is quite noisy in the showhall, and I don't always hear the announcement. Several times, I help out another breeder, and other breeders help me when this happens!! Both my girls do very well on Saturday, and it is great fun to see them being admired by the judges and other breeders. And, it is a wonderful experience to get a close look at what other Bengal breeders in particular are producing -- absolutely stunning Bengals are entered in the adult and kitten classes. It's also quite exciting to see all the different cat breeds together under one roof. Truly, there is something for everyone!!

At the end of the day, I pack up Manzanita and Mochamelo, and we drive over to the show hotel where we check in. I carry the girls and our gear up to our room, and let them out to run around and investigate the room. I put their litter, food and water in the bathtub in the bathroom, and take every precaution to make sure we keep our room spotless. Then, I tell them I will be back, and head downstairs to a Genetics Seminar, put on by one of the judges. A group of about 18 of us are totally enthralled by this presentation, and we learn the most current information about some of the most fascinating parts of feline genetics. Our instructor is extremely gifted in her knowledge, and her ability to impart this intricate information in a clear and understable manner. The seminar lasts about an hour and a half, and we are treated to pizza and chocolate cheesecake!! Then, time for all of us to head back to our rooms -- we are all quite tired, and have another full day ahead of us.
Another view of the showhall, with some of the vendors, too
Back in our room, Mochamelo, Manzanita and I settle down for some serious cuddling. We plop on the nice big hotel bed and see what's on television, and I make sure the alarm is set for the next morning. We take a peek out of our 8 story window at the beautiful view of Reno. We know many of our friends are busy gambling or in other ways enjoying the amenities of this beautiful city, but for me, snuggling with my girls is my biggest indulgence and treat.

Since we're already set up in the showhall, we girls treat ourselves on Sunday morning to a room-service breakfast. We get showered and groomed, and then make sure we have picked up behind ourselves like the young ladies we are. Everything gets packed up again; we check out of our wonderful hotel, and we drive back over to the showhall for the second and last day of the show. We have our show cage ready in no time flat, and the girls are back at work looking beautiful while I listen for their numbers to be called and enjoy myself chatting to old friends and making some new ones!! There seem to be even more local people coming to the show today, and I have a great time showing off my 2 lovely Bengal girls, and telling spectators all about the breed.
Our Foothill Felines Bengals show cage in Reno, NV
Both girls do very well again today, and again I am so proud of them, and of all the Bengals being shown this weekend. As 4:30 pm approaches, the Bengal adult class has finished being judged, and we are just waiting for the last ring for the kitten class. I get Mochamelo brushed and groomed one last time, and take her up to the ring. Lo and behold, she not only wins best of color and best of division, but she actually wins best of breed also!! This means that she was judged to be the best Bengal kitten in that ring. We are so excited, and our excitement continues to grow as we find out that Mochamelo's number is called to be in the "final" for short-haired kittens in that ring. Mochamelo ends up taking a ribbon in her first show, for 10th Best Shorthaired Kitten in Show. We are all so proud of her, and wish to thank TICA Allbreed judge Carol Barton for this honor!! We ask Carol to sign Mocha's ribbon, which she graciously does.

Finally, all the rings have been judged, the finals finished. It's time to get packed up once again, and begin the trip home to Sacramento. What a great trip and adventure, and we cannot say enough what a well-run show this was, put on by the Silver Cats Cat Club. We'll definitely be returning to Reno for future shows!!

TICA Judge Carol Barton with Mochamelo, 10th Best Shorthaired Kitten in Show!
FOOTHILL FELINES BENGALS & SAVANNAHS
Cameron Park, CA 95682 U.S.A.
(530) 672-CATZ Phone; E-mail: holly@hdw-inc.com

~ Perhaps the most important part of grooming and preparing your feline for a cat show is to provide the optimum nutrition throughout his entire lifetime. Give your kitty the energy, great health and desire to enjoy life to the fullest, and this vitality and sparkle will be much appreciated by the show judges! Used and recommended by Foothill Felines, click on image above to learn about and order this uniquely powerful nutritional supplement for felines at our Foothill Felines breeder discount (which is up to 50% less than what veterinarians charge). Just a pinch a day, sprinkled onto wet and/or dry food, energizes and supports all ages, weights and breeds of cats. Developed by scientists, veterinarians and formulators to strengthen the immune system and enhance the health and quality of lives of cats, this unique Nu- Vet supplement contains many important minerals, antioxidants, enzymes and vitamins especially needed by active felines' metabolisms INCLUDING taurine, calcium, blue green algae, brewer's yeast, and much more. ~
HOME | HOME (FRAMES VERSION) | BENGAL CATS | BENGAL & CAT CHAT | FREE BENGAL CAT SCREENSAVER | AVAILABLE BENGAL KITTENS & CATS | BENGAL KITTEN PHOTO ALBUMS | FUTURE LITTERS | SAVANNAH CATS
FELINE BEHAVIOR | BREEDING & CARE | CAT SHOWS | FELINE HEALTH | PET ODORS & ALLERGIES
UNIQUE CAT ACCESSORIES | THE BENGAL SPOT® | CAT EXERCISE WHEEL | CAT BOOKS | CAT FURNITURE | CAT TOYS & CATNIP | CHRISTMAS IS FOR CATS!® | SCAT MATS | VIDEO CATNIP | CAT WALKING JACKETS
BIG CATS | CAT NAMES | FELINE FUN FACTS | HOW TO ORDER | THE "KITTY TIMES" WEBSITE REVIEW | MARSHA'S WEB PAGE DESIGN® | MONTHLY SPECIALS | THOUGHT FOR THE WEEK
ABOUT US | CELEBRITY CORNER | E-MAIL US | GIVE US FEEDBACK | HOT LINKS | REGISTER FOR FREE GIFT | WEBMISTRESS
© 1996-2009 Copyright by HDW Enterprises, Inc. - All Rights Reserved.
HDW Enterprises, Inc., Cameron Park, CA 95682 (530) 672-CATZ phone
http://www.hdw-inc.com E-mail: holly@hdw-inc.com