HDW's WILD CATS Portrait Gallery
HDW ENTERPRISES &
Foothill Felines Bengals/Savannahs


THE CLOUDED LEOPARD

Neofelis nebulosa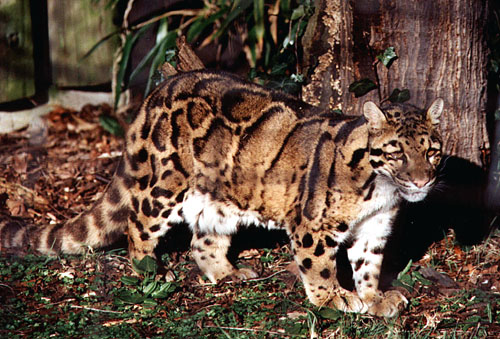 Clouded Leopards are somewhat between small wild cats and the big wild cats in size and genetics. They grow to between 2 to 3 1/2 feet in length, and can weigh up to 50 pounds. An elusive, shy cat, it has a gorgeous tan or tawny coat with distinctive large, irregularly-shaped, dark-edged cloud-shaped markings, hence both its common and original scientific name. Clouded Leopards are found in southern China, the eastern Himalayas, north-east India and south-east Asia. (The Bornean Clouded Leopard, Neofelis diardi, is a separate species found only on the Sumatra, Borneo and the Batu Islands.)

Because of their distinct skull structure, the two species are considered sufficiently different to be the only members of their genus. The Clouded Leopard was a confusion to scientists for many years as to classification and where it belonged within the wild cat families. Finally recognized as Neofelis nebulosa; "neo" means new and "felis" means small cat. Taken literally, the Clouded Leopard's scientific name means a new kind of small cat.

Interestingly, the Clouded Leopard has a large build for its size and proportionately, the longest canine teeth (2 inches) of any feline living today. It's believed that the Clouded Leopard is a descendant of the saber-toothed cat, which existed before/during the Ice Age. While relatively little is known about the habits of this species in the wild, it's thought that its primary prey includes many tree-dwelling mammals, particularly gibbons, macaques, and the Proboscis Monkey. The Clouded Leopard may also supplement its diet with other small mammals including deer, birds, porcupines, and domestic livestock. Likely due in large part to the type of prey it prefers, the Clouded Leopard is an excellent climber. Short, flexible legs, large paws, and keen claws combine to make it very sure-footed. This amazing cat possesses a tail as long as its body, which further aids it in balancing such as when it is climbing while hanging upside-down under branches, descending from tree trunks head-first!
FOOTHILL FELINES BENGALS & SAVANNAHS
P.O. Box 418104, Sacramento, CA 95841-8104, U.S.A.
(916) 481-CATS Phone/Fax; E-mail: holly@hdw-inc.com
HOME | HOME (FRAMES VERSION) | BENGAL CATS | BENGAL & CAT CHAT | FREE BENGAL CAT SCREENSAVER | AVAILABLE BENGAL KITTENS & CATS | BENGAL KITTEN PHOTO ALBUMS | FUTURE LITTERS
FELINE BEHAVIOR | BREEDING & CARE | CAT SHOWS | FELINE HEALTH | PET ODORS & ALLERGIES
UNIQUE CAT ACCESSORIES | CAT BOOKS | CAT FURNITURE | CAT TOYS & CATNIP | CHRISTMAS IS FOR CATS!® | SCAT MATS & TRAINING | VIDEO CATNIP | CAT WALKING JACKETS
BIG CATS | CAT NAMES | FELINE FUN FACTS | HOW TO ORDER | THE "KITTY TIMES" WEBSITE REVIEW | MARSHA'S WEB PAGE DESIGN® | MONTHLY SPECIALS | THOUGHT FOR THE WEEK
ABOUT US | CELEBRITY CORNER | E-MAIL US | GIVE US FEEDBACK | HOT LINKS | REGISTER FOR FREE GIFT | WEBMISTRESS
© 1996-2008 Copyright by HDW Enterprises, Inc. - All Rights Reserved.
HDW Enterprises, Inc., P.O. Box 418104, Sacramento, CA 95841-8104 (916) 481-CATS ph/fax
http://www.hdw-inc.com e-mail: holly@hdw-inc.com