HDW Enterprises and Foothill Felines Bengals Present:
JOSEPH S. BONSALL, JR. (of the Oak Ridge Boys) and
"MOLLY THE CAT"!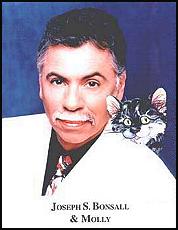 HDW: We are very pleased to be able to speak with Joseph S. Bonsall, well-known musician, successful writer, dedicated family man and so much more. Joseph, thank you for sharing your time and story with us.

You have such a wide variety of interests and have been involved in so many things - let's start by introducing you to our readers. Could you tell us a little bit about your childhood - where you grew up, interesting experiences, and perhaps some of the earliest indications for you of where your interests might take you as an adult?? What was Joseph S. Bonsall, the child, like??

JOSEPH: I was born in Philadelphia, Pennsylvania USA, in 1948. My parents (Joseph Sr. is a decorated hero of Normandy and my Mother Lillie was in the Woman's Army Corps) had met while in the army. I have one younger sister Nancy, and we grew up in a row house in the Kensington section of Philly one block away from the El Station.

Growing up was kind of tough but I don't remember thinking about that. I Loved Baseball and Music and tried to stay out of trouble. My Dad had a debilitating stroke when I was fifteen and I quickly had to become the man of the house. (Incidentally, both GI Joe and Lillie, my parents, are still with me today. They reside in a Veterans Home. We just recently sold the old rowhouse that I grew up in.)

My influences included an old woman named Nana Clark who made me read books; my Mother who encouraged me to trust in God; and, from a music standpoint, I Loved Elvis Presley and early rock and roll. There was so much music in Philadelphia in the late fifties and early sixties -- to see my name in The Philadelphia Music Hall of Fame today with all the others kind of boggles my mind but yet, I am not surprised, and here is why.

I was an energetic child who Loved to play sports, hear a good story and sing. I somehow always knew that I would do something really cool with my life and that I would NOT stay in the neighborhood of my youth. Nana Gertrude Clark told me that all of this would happen. (My "Angel" character in the MOLLY books is based on Nana Clark.)

HDW: Of course, so many people around the world recognize you first and foremost for your many years with the incredible Oak Ridge Boys musical group. How did you first get involved with the other "Boys", and how, where and when did the group initially get formed??

JOSEPH: You must realize that The Oak Ridge Boys have been around since 1945 and all of us joined the group at different times, although that is just a small part of the story. William Lee Golden joined The Oaks in 1965, Duane Allen in 1966, Richard Sterban in 1972 and myself in 1973. We all got started in music because of a love that we developed for Southern Style Gospel Music. Actually Rich and I sang together in a gospel group called The Keystones long before the Oaks. The Oaks were a gospel group when each of us joined and in 1977 we had our first big country hit. After five straight Gold Albums, "Elvira" hit in 1981 and made us a household name. After all these years of singing and having hit records, The Boys are well and still having a great time. We feel very blessed. Even today with Year 2000 approaching we have a hit song on the radio and a new album called: "VOICES"

HDW: Was there a central theme around the formation of the band?? Was success something that came quickly and easily to you individually as a musician, or was it a bit of a struggle?? How about for the group as a whole??

JOSEPH: Success of any kind never comes easy. I starved to death all the way through my twenties trying to make a living in music. But hard work, sacrifice, dedication, talent and a bit of luck always pay off. The Oaks have always believed in ourselves enough to get us through the tough times that we've had over the years!

HDW: What are The Oak Ridge Boys up to these days??

JOSEPH: The Oaks still play over 180 dates a year from Performing Arts Centers to State and County Fairs. Mom and Dad, Granny and the kids still come out to hear The Boys and for that we are very thankful. We have a new CD out on Platinum records called "VOICES" and a new hit single called "Ain't No Short Way Home." We have a weekly TV Show on TNN called "The Oak Ridge Boys Live From Las Vegas" and a kicking website on the Internet at: http://www.oakridgeboys.com.

HDW: Let's turn for a minute to one of your other careers - writing. When did you first begin writing, and what did you write??

JOSEPH: I have always loved to write. I have written articles on Musicand the Oaks for years as well as several songs. I write most all of the stuff on the Oaks website and my other website, mollythecat.com. In fact under the 'Bonus Stuff Bullet' at Molly's site you will find a lot of little things that I have written. Along with the MOLLY THE CAT Books I have three novels started. I just hope that one day I will have some free time to finish them (laughter)!

HDW: Why do you think writing and music are so important to you?? Are they similar as far as the creative expression involved for you - or are they different somehow, speaking to different parts of you??

JOSEPH: Being creative is what is important to me. I love the process. Imagine, a thought or an idea in the shower, you jump out soaking wet and write it down, refine it later and the next thing you know you have a poem or a song or a story that didn't exist before the shower. Now expand it. The song gets recorded, the story gets published. Next thing you know, the little idea in the shower is a tangible book that People are buying and reading to their children and grandchildren or a song people enjoy listening to on the radio. Obviously it is not all that easy, but it is the creative faucet that turns on in your heart and mind that really fascinates me. I'll tell you, I think that everyone has this too. Many people are not in tune with it though and ignore the little voices or do not hear the faucet turn on. It doesn't have to be a song or book, hey, it could be a new design for the kitchen window. The process is still the same and I Love that!!!

HDW: Obviously, you and your family enjoy your cats. We'd love to hear from you about the felines who currently share your home, family and heart with you!!

JOSEPH: Now, to what is really important -- our Kitties! Mary and I have five cats who live with us at The Home and the MOLLY THE CAT Books are really based on just constantly observing them and pretending that they can talk (laughter)! There is "Old Pumpkin", a big orange tabby who has been with us for almost 18 years. There is "Omaha", a handsome charcoal and white kitty who is now about twelve. "Gypsy" is a BIG black and white cat who Mary rescued from outside, and quot;Molly" the wonderful little calico (who really was found by our nephew on a rainy night) is now six years old and still "looks somewhat like a kitten."

It was her spirit that encouraged me to write about her. She is wonderful. But, Ah, there is a kitty who lives in The Home that is not yet in a book. Our precious "Sally Ann". A beautiful little tiger that I adopted at a book signing in Oklahoma. She has also brought much joy to our Home. Sally Ann has a wonderful little corner at mollythecat.com that the kids seem to really Love and yes, she will be in a book someday.

HDW: Could you share with us what it is that you personally find appealing about cats in general, and your cats in particular?? How did you find them (or they find you), and how do they contribute to your overall quality of life??

JOSEPH: All I can say is that I believe that cats are very blessed creatures and I simply adore them. My beautiful wife whom I made "Mother Mary" in the books has loved cats all of her life and I must say that she has taught me how to really love and enjoy the Feline experience. (This sounds like a rock band!) Our daughters are grown and married and I spend a lot of time on the road. Without our kitties, "The Home" would not be A Home!

HDW: We naturally want to hear about your wonderful "MOLLY THE CAT" book series for children. Could you tell us a bit about what prompted you to write the first book - and just who is "Molly"??

JOSEPH: I was sitting in a hotel room in Las Vegas four years ago this Christmas. I was homesick for my wife and the kitties. I couldn't get little Molly off of my mind so I opened up a fresh page on the old Apple laptop and wrote "Molly was two years old and a fully grown cat, although she still looked like a kitten. It's just that she never grew very big. Molly thought that it had something to do with her beginnings, not that she remembered very much about them, however, she did recall and even sometimes dreamed about the night that a humancat child picked her up out of the rain and brought her to the Home and to Mother Mary". I read it over and over and called Mary and read it to her. She said. "Are you going to write a story about our Molly?" I said, "I am going to write a Disney screen play about Molly!" Anyhow, I became consumed. I do believe my first draft read more like a screenplay than a book series and maybe someday it WILL be!

HDW: Did you always have it in your mind that the "MOLLY" books would be a series?? How many books are there now in the series, and do you expect there to be more in the future??

JOSEPH: When Ideals Children's Books decided to publish "MOLLY" their vision was that it should be broken down into a series. I did a lot of re-writing and re-formatting to that original manuscript to come up what is now four "MOLLY THE CAT" Books. I must say a word here about MOLLY's illustrator, Erin Marie Mauterer. She has made my characters live and breath with her wonderful talent. "MOLLY" is the first book wherein we learn her tender story. "THE HOME" is book #2 where we get to know Molly and her friends a bit better and also where we learn of her desire to go OUTSIDE. In Book #3, "OUTSIDE", she gets her wish and gets in loads of trouble. Some great new characters come into play. Two street-wise, outside cats named "Spooker" and "the Dude" as well as the evil "RED CAT". In "BREWSTER", Book #4 (just released) Molly goes out for a quick trip and gets in worse trouble. All the characters come back into play including the first dog in the series. The friendship between Molly and BREWSTER the friendly, big-hearted goofy bulldog is, to me, the heart and soul of the story. There is also "Angel" who always speaks to Molly and reassures her, and at the end of "BREWSTER", Spooker tells Molly the story of Angel. It is a very tender moment. I wept when I wrote it.

HDW: When you wrote the "MOLLY" books, were you trying to appeal to a particular group of children at all?? Was there and is there a theme throughout the series that you, as a writer, are trying to express to your readers??

JOSEPH: It might surprise you to find out that I never really set out to write a children's book at all. I was just writing about my Molly and that is how it all turned out. I believe that Children of all ages and cat lovers everywhere can enjoy these books. The messages are subtle and yet very real. Friendship, honesty, sacrifice, good vs bad, belief in God. All these elements are there, but mostly the stories are fun.

HDW: For interested readers, where can they go to order your books??

JOSEPH: "MOLLY THE CAT" Books are published by Ideals Children's Books and Imprint of Hambleton Hill Publishing. There are four books so far. "MOLLY", "THE HOME", "OUTSIDE", and "BREWSTER", written by Joseph S, Bonsall and illustrated by Erin Marie Mauterer. The books are available at book stores everywhere and on all the regular Internet outlets. You can order personalized, signed by the author copies by clicking on the mollythecat.com website. There you can also learn all about the books, meet Sally Ann, get updated "Molly News", Ask Mother Mary cat care questions, leave a message for Molly on her message board and even learn about The Joseph S. and Mary Ann Bonsall Foundation.

HDW: You are also involved in some other writing projects in addition to the "MOLLY" books, right? We'd love to hear some more about what you are working on, if you'd care to share with us!! And, it's always fascinating to find out what the inspiration behind a project might be, too!!!

JOSEPH: I have three novels in the works. One is a book about six young boys growing up in Philly in the sixties, very loosely based upon my own experiences. I am also working on a time travel romance, and a fantasy book about an old Dragon slayer and an even older Dragon. Like I said earlier....... someday (laughter)!

HDW: In addition to your music and writing careers and projects, what else do you enjoy doing in your "free" time??

JOSEPH: I Love to read and go to movies. (I still love a good story!) I Love to walk and play tennis. I Love working on our farm on the Kentucky Tennessee line. Riding a big John Deere tractor clears the mind (how is that for a city boy?) But, mostly, I Love Mary!

HDW: Any other thoughts you'd like to share with our readers??

JOSEPH: I am honored that you would think enough of my works to write about them. I hope that your readers will grow to love my Molly as we do. I would also like to add that Pet Ownership is a blessing and that it is also a life-long commitment and I would hope that your readers would pass that along. God Bless You All!

HDW: Joseph, thank you so much for sharing your thoughts and experiences with us so graciously. We have really enjoyed our interview, and know that our readers around the world will, also. Our very best wishes to you and your family for continued health, happiness and inspiration in the future!!



HOME | HOME (FRAMES VERSION) | BENGAL CATS | BENGAL & CAT CHAT | FREE BENGAL CAT SCREENSAVER | AVAILABLE BENGAL KITTENS & CATS | BENGAL KITTEN PHOTO ALBUMS | FUTURE LITTERS
FELINE BEHAVIOR | BREEDING & CARE | CAT SHOWS | FELINE HEALTH | PET ODORS & ALLERGIES
UNIQUE CAT ACCESSORIES | THE BENGAL SPOT® | CAT BEDS | CAT BOOKS | CAT FURNITURE | CAT TOYS & CATNIP | CHRISTMAS IS FOR CATS!® | SCAT MATS | VIDEO CATNIP | CAT WALKING JACKETS
BIG CATS | CAT NAMES | FELINE FUN FACTS | HOW TO ORDER | THE "KITTY TIMES" WEBSITE REVIEW | MARSHA'S WEB PAGE DESIGN® | MONTHLY SPECIALS | THOUGHT FOR THE WEEK
ABOUT US | CELEBRITY CORNER | E-MAIL US | GIVE US FEEDBACK | HOT LINKS | REGISTER FOR FREE GIFT | WEBMISTRESS
© 2000-2 Copyright by HDW Enterprises, Inc. - All Rights Reserved.


HDW Enterprises, Inc., P.O. Box 418104, Sacramento, CA 95841-8104 (916) 481-CATS ph/fax
http://www.hdw-inc.com e-mail: holly@hdw-inc.com