Proudly Presented By
HDW ENTERPRISES & Foothill Felines Bengals
Foothill Felines Mama Mia, a beautiful Bengal cat, represents the best
of her wild ancestry and the best of her own unique beauty, both inside and out.
More than 50 million years ago, a small, "weasel-like" animal called "Miacis" roamed the Earth. Most scientists now believe that this animal was the ancestor of today's domestic cats, as well as the ancestor for other mammals including raccoons, dogs and bears. The extinct genus of species Miacis appeared in the Late Paleocene era (circa 65-42 million years ago) and were mammals of the family Miacidae, superfamily Miacoidea. They are representative of the group of early carnivores that were the ancestors of modern carnivores, ie., of the Order Carnivora. Only the species Miacis cognitus is a true Carnivora. Miacis may be considered the genus of carnivorous mammals that gave rise to all modern Carnivora. Miacis were five-clawed, about the size of a weasel (~30 cm), and lived on the North American and European continents. Some of their unique characteristics included low skulls, long slender bodies, long tails, and short legs. They had 44 teeth, although some reductions in this number were apparently in progress and some of the teeth are reduced in size. Their hind limbs were longer than their forelimbs and their pelvis was very doglike in form and structure. Miacis had retractable claws, agile joints for climbing, and binocular vision. Miacis and related forms had brains that were relatively larger than those of other creatures in the Carnivora order of that time; their increased brain size as compared with body size likely reflects an increase in intelligence. Miacis was well suited for a tree climbing lifestyle with needle sharp claws, and had limbs and joints that resemble those of modern carnivorans. Miacis was probably a very agile forest dweller that preyed upon smaller animals, such as small mammals, reptiles, and birds, and might have also have eaten eggs and fruits. It was about 40 million years ago that actual members of the cat family first appeared on our planet.

As early as 3500 B.C., Egyptians were domesticating wildcats from Africa, and these domesticated wildcats became treasured pets and were honored in many forms of artwork for their skill in hunting and killing rodents such as snakes, rats and mice. The cat's first name in Egypt was Myeo or Mau. Early Egyptians believed that the glow from a cat's eyes held captive the light of the sun.

Beautiful gold statue of a cat
Around 1500 B.C., cats were actually considered sacred by the Egyptians, and if a person killed a cat, they were usually put to death. Egyptians shaved their eyebrows as a symbol of their grief when their pet cat died, and they made their dead cats into mummies. They also worshipped a goddess of fertility and love who controlled the life-giving sun's heat named "Bast" or "Bastet", who had the body of a woman and the head of a cat. Bast is depicted with the pointed ears of the domestic cat, and she is revered as the protector of the positive forces in the world.

The Egyptian Goddess Bastet
According to some historians, the cycle of life and death was created when the Goddess Sekhmet-Bast divided into two sisters, Sekhmet and Bast. Together the sisters form the "Yin Yang" deities of ancient Egypt. Bast is the protector of positive energy and Sekhmet of the negative. Sekhmet was known as the protector of the righteous, providing for vengeance and swift justice. Sekhmet is normally depicted as a dark skinned woman with the head of a lioness. She can be easily distinguished from her sister, Bast, by her rounded ears. Sekhmet's sacred color is red.
The Egyptian Goddess Sekhmet, sister to Bast
The two sisters: left is Bast, and right is Sekhmet
Cats first came to Europe and the Middle East about 1000 B.C., most likely from Greek and Phoenician traders. The ancient Greeks and Romans also highly valued cats for their ability to control undesirable rodents. In Ancient Rome, cats were especially welcomed as vermin controllers. Most representations of cats in Roman art show them as working animals, and there is little indication of reverence or mystical powers given to them. And yet, at one time the cat was considered the guardian spirit of a household, and the symbol of liberty in Rome. The Roman Army recognized the value of cats as store watchmen. They carried cats with them through Gaul and eventually to Britain. The Roman colonial families soon became avid pet owners (some even kept larger cats as pets as well as the smaller domestic variety of feline). Today there is little doubt that some of their cats strayed and interbred with Felis Silvestris, the wild cat common at that time throughout the higher land of Britain and Western Europe. In the 4th Century A.D. when the Romans retreated to Rome, they left their cats behind.

Vikings used cats as rat catchers and companions and are sometimes credited with the domestication of the Norwegian Forest Cat, or "Skogkatt". Freyja, the Viking goddess of love, fertility and war, was strongly associated with cats, as they were considered her sacred animals. She was often portrayed in a chariot drawn by two horse-sized winged cats. Kittens were given in her name to new brides, linking together Freya's influence over cats, romance and fertility.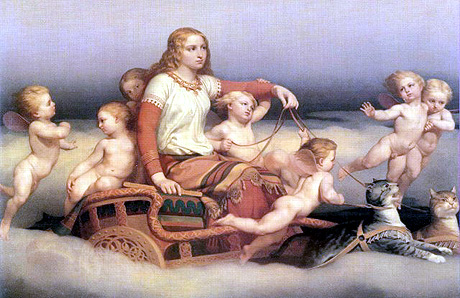 Freyja, the Norse Goddess of love, fertility and war (© Bloomer National Museum in Stockholm)
Domestic cats then spread throughout Asia, where they were used to protect the silkworm cocoons from rodents, which was vital to the silk industry. The people of the Orient greatly admired the mystery and beauty of the cat, and many writers and artists in Japan and China celebrated these animals in their art. In Japan, there is the "Maneki Neko", also referred to in English as the "good fortune" or "good luck" cat. It is usually depicted as a sitting cat with paw raised and bent. Japanese legend has it that a cat waved at a Japanese landlord, who was intrigued by this beckoning gesture and went towards the cat. A few seconds later a lightning bolt struck where the landlord had been previously standing. The landlord attributed his good fortune to the cat's fortuitous action. A symbol of good luck ever since, it is most often seen in businesses to draw in money. In Japan, the flapping of the hand is considered a "come here" gesture, so the cat is beckoning customers. Another Japanese legend with cats is from Nekomata. This legend states that when a cat has reached 10 years of life, it grows another tail and can stand up and talk in human speech.

The Maneki Neko, literally "Beckoning Cat"; also known
as "Welcoming Cat", "Lucky Cat", "Money Cat" or "Fortune Cat".
During the Middle Ages, however, superstitions flourished. In Europe the cat was associated with the Devil, evil and witchcraft, and hundreds of thousands of cats were killed out of this fear. The destruction of so many cats upset the balance of the rodent population contributing greatly to the spread of a form of the bubonic plague called "black death", in which the deadly disease is transmitted to people by rat fleas. Almost one fourth of the entire population in Europe in the 1300's were killed by this plague; in some parts of France, only one-tenth of the population survived.

An early European woodcut depicting a Venetian doctor visiting a plague patient.
The household cat appears to sit guard in the room (keeping the rodents away).
1493/94, Ketham, woodcut from the book "Venice"
Not surprisingly, Europeans once more began to realize the important role cats played in controlling rodents, and cats gradually regained their popularity. Traders, explorers and colonists brought domestic cats with them to the New World during the 1600's and 1700's, and settlers continued to take their cats with them as they moved towards the West. Virtually all the cats of today in North America are descendants from these cats.


Did you know that the very first cat show was held in London in 1871?? And that the first cat association was formed in 1887 in Great Britain, called the National Cat Club of Great Britain?? Cat associations register purebred cats by recording the ancestries (pedigrees) of the animals to ensure the preservation of the breeds. These associations also sponsor cat shows and establish the standards for judging of each breed. Breeders and pet owners display their finest cats at these shows, where the cats compete in groups based on factors such as breed, age, and sometimes sex. Highly trained judges at these shows award points for how well each cat meets the standards of their breed, and cats that earn enough points may become champions or grand champions.

Did you know that domestic cats can run about 30 miles (48 kilometers) per hour??


Did you know that the cat's tail is an extension of its backbone, and the flexible tail helps a cat keep its balance and land on its feet when it falls??


Did you know that a cat can move each ear independently, and improve its hearing by aiming the cup of its ears in the direction from which a sound is coming??



CLICK HERE FOR MORE FELINE FUN FACTS & TRIVIA!!
FOOTHILL FELINES BENGALS & SAVANNAHS
P.O. Box 418104, Sacramento, CA 95841-8104, U.S.A.
(916) 481-CATS Phone/Fax; E-mail: holly@hdw-inc.com
HOME | HOME (FRAMES VERSION) | BENGAL CATS | BENGAL & CAT CHAT | FREE BENGAL CAT SCREENSAVER | AVAILABLE BENGAL KITTENS & CATS | BENGAL KITTEN PHOTO ALBUMS | FUTURE LITTERS | SAVANNAH CATS
FELINE BEHAVIOR | BREEDING & CARE | CAT SHOWS | FELINE HEALTH | PET ODORS & ALLERGIES
UNIQUE CAT ACCESSORIES | THE BENGAL SPOT® | CAT BEDS | CAT BOOKS | CAT FURNITURE | CAT TOYS & CATNIP | CHRISTMAS IS FOR CATS!® | SCAT MATS | VIDEO CATNIP | CAT WALKING JACKETS
BIG CATS | CAT NAMES | FELINE FUN FACTS | HOW TO ORDER | THE "KITTY TIMES" WEBSITE REVIEW | MARSHA'S WEB PAGE DESIGN® | MONTHLY SPECIALS | THOUGHT FOR THE WEEK
ABOUT US | CELEBRITY CORNER | E-MAIL US | GIVE US FEEDBACK | HOT LINKS | REGISTER FOR FREE GIFT | WEBMISTRESS
© 1996-2008 Copyright by HDW Enterprises, Inc. - All Rights Reserved.
HDW Enterprises, Inc., P.O. Box 418104, Sacramento, CA 95841-8104 (916) 481-CATS ph/fax
http://www.hdw-inc.com e-mail: holly@hdw-inc.com