Proudly Presented By
HDW ENTERPRISES & Foothill Felines Bengals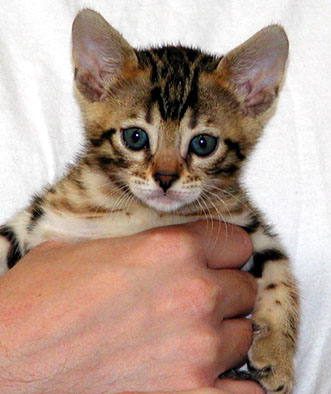 A Foothill Felines Bengal Kitten
REASONS FOR USING KITTEN GLOP FORMULAS
There are many times when it can be handy to have these recipes available to help you in caring for your felines. The most obvious time is when you have very young kittens that need to be fed, and either you can't get the commercial Kitten Milk Replacer formulas in your area; the stores are closed; or the kittens don't like it and won't eat it. (This happened to me, by the way, when I had one of my queens develop mastitis when her kittens were 12 days old -- the kittens really resisted taking a bottle at that age!!) Nursing/lactating queens need a tremendous amount of nutrition, and these glop formulas provide calcium, liquid, electrolytes and will often entice even a nervous queen to take a few minutes away from her babies to EAT!! And, sometimes older cats have gum or tooth problems, or simply aren't as strong as they used to be, and this glop type of food can be very successful with them, also. We felt it was important to have several different variations of the concoction that breeders fondly refer to as GLOP FORMULAS here in our website for easy reference, printing, and using. We thank all the contributors for their knowledge and for sharing their successful recipes with us.

ALTABELLA CATTERY'S KITTEN GLOP

INGREDIENTS:
1 lg. can evaporated milk (not Milnot)
2 tbsp. plain yogurt (not diet)
2 tbsp. mayonnaise (real)
1 tbs. Karo Syrup (light)
1 pkg. Knox gelatin
1 egg yolk (beaten)
1 cup of liquid unflavored Pedialyte

INSTRUCTIONS:
Mix milk, yogurt, mayonnaise and syrup together well.
Bring 1 cup water to boil and mix in Knox gelatin; set aside.
Mix egg yolk with small amount of milk mixture and beat well.
Add gelatin and water to milk mixture and beat well. Add in egg yolk mixture and beat well.
Pour into a freezer safe bowl or similar type of bowl with a cover and set in refrigerator.
We usually use Ice Cube Trays for our glop pudding. Pudding will last for two weeks covered in refrigerator.
Always warm pudding to room temperature (milk form) before feeding.
It is very rich in calcium, this pudding can be used as a supplement for kittens, sick cats and show cats to put on weight. Several Veterinarians have approved this recipe as being balanced and nutritious.

FRANNY SYUFY'S ABOUT.COM GLOP

Popularly known as "Kitty Glop" among breeders, this recipe is packed with nutrition for orphaned kittens, nursing mother cats and their babies, cats recuperating from illness and older cats who need nutritional supplementing. Some recipes call for canned goats milk; if you have it readily available it's fine, otherwise canned evaporated cows' milk works well.¹ The recipe sets up to a gelatin-like consistency in the refrigerator, and can be stored there for up to two weeks. It can also be frozen in an ice tray for convenience in serving. To serve, warm to room temperature. Do not pour back unused portions into the mix.

12 oz. of water
1 envelope Knox Gelatin
1 12oz can of whole evaporated milk (not skim)
2 tablespoons mayonnaise
2 tablespoons plain yogurt, not nonfat

Boil the water, add the gelatin - stir well. Add the following ingredients in order, mixing well after each addition: 1/2 of the canned milk, mayonnaise and yogurt; the rest of the milk. Variations include the addition of kitty vitamins, acidophilus, and/or pureed baby food meat such as lamb, chicken, or beef. Franny adds: "I have seen variations with two egg yolks added, but I would caution against this, due to the risk of salmonella with raw eggs. For very easy mixing, you can use a blender at low speed, but I also like a bowl with a wire whisk."

¹ Many older cats have difficulty digesting cows' milk. The acidophilus may help with this, but you might want to try mixing a very small amount to test on your older kitty first.

~ Give your kitty the energy, great health and desire to enjoy life to the fullest! Used and recommended by Foothill Felines, click on image above for more information and to order this uniquely powerful nutritional supplement for felines at our Foothill Felines breeder discount (which is up to 50% less than what veterinarians charge). Just a pinch a day, sprinkled onto wet and/or dry food, energizes, boosts the immune system and supports the overall health of all ages, weights and breeds of cats. Developed by scientists, veterinarians and formulators to enhance the health and lives of cats, this unique Nu- Vet supplement contains many important minerals, antioxidants, enzymes and vitamins especially needed by active felines' metabolisms INCLUDING taurine, calcium, blue green algae, brewer's yeast, and much more.





FELIWAY PLUG-INS & SPRAY


~ Click on links above for more information and to order these exceptionally calming Feliway products for felines. Used and recommended by Foothill Felines! Wonderful for cats of all ages, weights, and breeds. Contains natural cat pheromones for extremely effective stress relief and eliminating need for cats and kittens to mark or exhibit other unwanted behaviors. Every multi-cat household should know about these plug-ins; they are odorless to people, yet they are especially helpful to kittens/cats during a move, any change in your household routine, periods of stress of any kind, and queening.

DEBBIE ARSICH'S BELLBOOKNBENGAL GLOP

Pedialyte: 10-12 ounces
Goat's Milk: 12 ounce can
Knox gelatin: 1 package
Mayonnaise (the real stuff): 2 Tablespoons
Plain, Live Culture Yogurt: 2 Tablespoons
Karo Syrup: 1 teaspoon
Baby Meat (I use Beechnut turkey or veal): 2 jars

Boil the Pedialyte, add gelatin and dissolve. Add other ingredients; stir till well mixed. The mayonnaise will clump and rise to the top, so this will be lumpy.

Debbie says, "This recipe was given to me by my sister-in-law Denise Gross in Kentucky and it has been around for quite awhile. Many breeders are very grateful to the unknown originator of this recipe as it has proven invaluable to us time and time again!! This recipe makes a lot of formula, so I freeze it in pint containers. Then I can defrost in the microwave, use it for 2 or 3 feedings, then throw away the rest. I also found that if a kitten is real lethargic and unwilling to eat, you can mix a little syrup with Pedialyte and give it that to start with. It perks them up, then give the formula. The syrup and electrolytes will give them a boost, but not stay with them long. The yogurt is a real treat for the other cats. They really love it. I think the company is 'Mountain High' or something like that, and they only seem to sell it in the bigger containers. You could freeze it too, but you don't want to freeze it again as glop."

"It only takes a few minutes to cook, but lock the cats up when you start to cook this. Otherwise they will be all over you!!! It is very easy to transfer the kittens to eating on their own with this recipe, as they are used to the taste. I just start adding kitten food to it and showing them how to lap it up. Then decrease the glop a little at a time. It usually takes just about a week to completely wean the kittens, using this glop recipe."

PETPROSPECTS.COM KITTEN GLOP RECIPE

Kitten Glop is a suitable feed mixture for healthy kittens and is also good for lactating queens. Most recipes refer to American brand names which are not understood outside of the USA/Canada. We have converted these to generic terms and noted alternatives.

INGREDIENTS:
* 1 envelope unflavored gelatin
* water per gelatin package directions (approx 12 oz)
* 1 12 oz can whole evaporated milk (not skimmed) See notes
* 3 tablespoons plain yogurt (not low fat)
* 3 teaspoons clear corn syrup See notes
* 3 tablespoons mayonnaise
* 1 or 2 raw egg yolks (optional) See notes

NOTES:
If you have canned goat's milk available, use this instead as it reduces the likelihood of lactose intolerance problems. Sheep's milk is even higher in fat but not generally available in cans. Some recipes use 2 tablespoons mayonnaise, 2 tablespoons plain yogurt and omit the corn syrup entirely. Clear corn syrup (e.g. "Karo" brand in the US) is a concentrated glucose solution. It contains 15% - 20% dextrose (glucose), a mixture of other types of sugar and may be flavored with vanilla. Dark corn syrup is made with molasses and is more strongly flavored. Raw eggs can be a source of salmonella. Do not use any egg white in the mixture, it can prevent other nutrients from being digested. Kitty vitamins and/or acidophilus are sometimes added. Only add vitamins if the diet is deficient in them - vitamins can be dangerous in too high quantities (hyper-vitaminosis) and vitamin imbalances affect development.

METHOD:
Boil the water and mix in gelatin powder. Add the other ingredients in the following order, mixing well after each addition: half of the canned milk, corn syrup (if used), mayonnaise + yogurt, egg yolk (if used), remainder of the canned milk. Use either an egg beater or a blender set to low speed. Serve the glop at room temperature or slightly warmed since the kittens will be used to warm milk. Warming the mixture makes it more pungent and therefore more appetizing. Do not pour back unused portions into the stored mix as it may introduce contaminants. Glop sets into a jelly when refrigerated. It can either be stored in the fridge in a covered container for up to 2 weeks or frozen into individual portions in ice cube trays and defrosted as needed. Freezing it is very convenient, but it must be properly thawed before serving as cold food will cause stomach upsets in young kittens.




GREAT MEW PRODUCTS FOR HAVING FUN WITH YOUR KITTY

DELUXE LEOPARD PRINT PET STROLLERS


~ NEW! Click on image above to find out more about these absolutely stunning leopard print pet cat strollers we've found; they hold pets up to 30 pounds so will work for even the largest cat breeds. What fun you'll have taking a walk on the WILD SIDE with your kitty kept in the safety, comfort and style of his own exotic leopard print cat stroller!! ~

TOY-GO-ROUND CAT EXERCISE WHEELS


~ NEW! Click on image above to learn about the incredible new exercise wheels for cats; the Toy-Go-Round wheels!! Great for relieving stress and boredom in indoor cats, maintaining weight and building muscle tone, even in small areas. Thse are simply the best designed, best built and best priced wheels we've found anywhere!! ~

DR. BOBBY GLENN, DVM & STEPHANIE MOORE'S
KITTEN FORMULA RECIPE

Stephanie tells us that Dr. Glenn has been working very hard helping her and others in cat rescue for over 10 years, and he has used and recommended this formula for over 25 years!!

INGREDIENTS:
* 12 oz can evaporated milk
* 1/2 cup water
* 1 egg yolk
* 1 tsp kayro syrup
* 1-2 drops of vitamin

* Pedialyte formula (from World Health Organization)...no preservatives so short life-span
* 1 cup water
* 2 tsp sugar
* 1/8 tsp salt
* 1/8 tsp baking soda
* (this Pedialyte formula gives needed electrolytes & some sugar for energy)

Combine all ingredients and warm slightly.

FOOTHILL FELINES BENGALS & SAVANNAHS
Cameron Park, CA U.S.A.
Phone: (530) 672-CATZ; E-mail:
holly@hdw-inc.com
HOME | HOME (FRAMES VERSION) | BENGAL CATS | BENGAL & CAT CHAT | FREE BENGAL CAT SCREENSAVER | AVAILABLE BENGAL KITTENS & CATS | BENGAL KITTEN PHOTO ALBUMS | FUTURE LITTERS | SAVANNAH CATS
FELINE BEHAVIOR | BREEDING & CARE | CAT SHOWS | FELINE HEALTH | PET ODORS & ALLERGIES
UNIQUE CAT ACCESSORIES | THE BENGAL SPOT® | CAT EXERCISE WHEEL | CAT BOOKS | CAT FURNITURE | CAT TOYS & CATNIP | CHRISTMAS IS FOR CATS!® | SCAT MATS | VIDEO CATNIP | CAT WALKING JACKETS
BIG CATS | CAT NAMES | FELINE FUN FACTS | HOW TO ORDER | THE "KITTY TIMES" WEBSITE REVIEW | MARSHA'S WEB PAGE DESIGN® | MONTHLY SPECIALS | THOUGHT FOR THE WEEK
ABOUT US | CELEBRITY CORNER | E-MAIL US | GIVE US FEEDBACK | HOT LINKS | REGISTER FOR FREE GIFT | WEBMISTRESS
© 1996-2009 Copyright by HDW Enterprises, Inc. - All Rights Reserved.
HDW Enterprises, Inc., Cameron Park, CA 95682 (530) 672-CATZ phone
http://www.hdw-inc.com e-mail: holly@hdw-inc.com