Foothill Felines Bengals present:

The two most popular names given to feline citizens of the United States are "Tiger" and "Samantha"!


The ancient Egyptians first referred to cats as mau , while the Syrians, from their neighboring empire, chose to call this new creature qato !


In the Danish and Dutch languages, the term kat was selected, and in France it became chat !


Cats are known as katze in German, and in Spanish and Italian, a cat is known as a gatto !


While the Russian alphabet makes their word for cat look strange to us, the pronunciation for cat is kot !


Cat people seem to use more imagination and creativity when choosing a name for their pet than do dog fanciers!


Famous mystery writer Raymond Chandler named his black Persian "Taki"!


The name of Pope Leo XII's treasured tabby was "Micetto"!


Do you know why George Burns, famous comedian, chose to call his cat companion of many years "Willie"? Explains Mr. Burns, "When you told the cat what to do, it was always a question of will he or won't he!!"


Most of us have heard these popular alternative words for "cat"... feline, tabby, tom, tomcat, pussy, kitty, and kitten . But, have you ever heard of grimalkin ? The dictionary explains that a grimalkin is an old, female cat - OR, an elderly woman! And, what about a gib ? Gib was the old English term for a neutered male cat. This name took on its meaning from a man named Gilbert who...(!!)


People who like cats are called ailurophiles . This word comes from the ancient Greek language.


Not surprisingly, Adolf Hitler was known to despise cats. However, his mortal enemy in World War II, Sir Winston Churchill of England, absolutely adored them! Churchill used to refer to his cat, whom he named "Jock", as his special assistant, and "Jock" was reported to be lying on the bed with his master on the day the great British statesman died.



CLICK ON KITTY to go to MORE Feline Fun Facts from Foothill Felines Bengals!!


~ Click on image above to learn about and order this uniquely powerful nutritional supplement for felines at our Foothill Felines breeder discount. Used and recommended by Foothill Felines, just a pinch a day sprinkled onto either wet or dry food provides vibrant results with all ages, weights and breeds of cats. Even the most finicky cats can't taste it! Developed by scientists, veterinarians and formulators to enhance the health and lives of cats, this unique Nu- Vet supplement contains many important minerals, antioxidants, enzymes and vitamins INCLUDING taurine, calcium, blue green algae, brewer's yeast, and much more. ~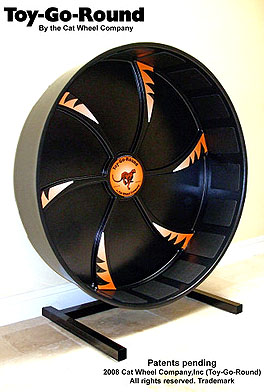 CAT EXERCISE WHEELS
~ Click on image above to learn about the incredible new exercise wheels for cats; click on photo above!! They're simply the best designed, best built and best priced wheels we've found anywhere!!

FELIWAY PLUG-INS & SPRAY
~ Click on links above to order these exceptionally calming products for felines. Used and recommended by Foothill Felines!! Wonderful for cats of all ages, weights, and breeds of cats. Contains natural cat pheromones for stress relief and eliminating need for cats and kittens to mark or exhibit other unwanted behaviors. ~
RESCUE REMEDY FOR PETS


~ Click on link above to order this homeopathic product. Bach Rescue Remedy (alcohol free) for Pets is for dogs, cats, horses, and birds - it's been recommended by veterinarians for animals worldwide as an emergency remedy to help calm pets in all kind of stressful situations. Just add several drops daily to your pet's drinking water. Used and recommended by Foothill Felines. ~

HOME | HOME (FRAMES VERSION) | BENGAL CATS | BENGAL & CAT CHAT | FREE BENGAL CAT SCREENSAVER | AVAILABLE BENGAL KITTENS & CATS | BENGAL KITTEN PHOTO ALBUMS | FUTURE LITTERS | SAVANNAH CATS
FELINE BEHAVIOR | BREEDING & CARE | CAT SHOWS | FELINE HEALTH | PET ODORS & ALLERGIES
UNIQUE CAT ACCESSORIES | THE BENGAL SPOT® | CAT EXERCISE WHEEL | CAT BOOKS | CAT FURNITURE | CAT TOYS & CATNIP | CHRISTMAS IS FOR CATS!® | SCAT MATS | VIDEO CATNIP | CAT WALKING JACKETS
BIG CATS | CAT NAMES | FELINE FUN FACTS | HOW TO ORDER | THE "KITTY TIMES" WEBSITE REVIEW | MARSHA'S WEB PAGE DESIGN® | MONTHLY SPECIALS | THOUGHT FOR THE WEEK
ABOUT US | CELEBRITY CORNER | E-MAIL US | GIVE US FEEDBACK | HOT LINKS | REGISTER FOR FREE GIFT | WEBMISTRESS
© 1996-2015 Copyright by HDW Enterprises, Inc. - All Rights Reserved.


HDW Enterprises, Inc., Cameron Park, CA 95682
http://www.hdw-inc.com e-mail: holly@hdw-inc.com