Foothill Felines Bengals present:

Did you know that it was a phrase in a book written during the Dark Ages that gave rise to the idea that cats have nine lives? English author and satirist William Baldwin wrote in his book Beware the Cat , "It is permitted for a witch to take her cat's body nine times." During this time, as thousands of "witches" were cruelly burned at the stake, many an unfortunate cat accompanied them to their terrible deaths.


Another bizarre superstition regarding cats in the Middle Ages was that some Europeans believed that the cat had magical healing powers that could help humans. In fact, many European doctors gave a cat to people who were suspected of being insane, as a healing tool! Did those primitive physicians who wrote such "wise" prescriptions have secret or first-hand knowledge about the tranquil effect of cats on troubled souls? Today, we know this to be a scientific truth.


There was a prophet named Mohammed in the Middle East who so loved his cat (named Meuzza), that he always allowed her to sleep on his favorite robe. One day, when he was to leave immediately on an urgent errand, Mohammed found Meuzza sleeping soundly upon the sleeve of the garment, and rather than disturb her rest, he cut the sleeve off of his robe, put on what remained of his garment, and went on about his business and errand!


In Siam, and other exotic, far away places such as Indonesia, the cat was given special honors, and it was believed that the yearly agricultural climate depended solely upon the "whim" of the cat! The cat was so important in this region that she rode at the head of the royal procession in a splendid chariot celebrating the crowning of a new king. The hope was that the royal family would produce an abundant crop of heirs to the throne (just like the prolific cat)!


In some parts of the Old World, the cat was placed in the empty and waiting cradle of a newlywed couple in the belief she would quickly grant their wish for children. (The Pennsylvania Dutch still continue this time-honored custom today!)


The fear of the cat was so great in the early American colonies, that it was believed that evil consequences would strike down anyone who needlessly harmed a cat.


Other colonial superstitions regarding cats were that a person who kicked a cat was certain to develop rheumatism in that leg, and that a farmer who killed a cat could expect a mysterious illness to kill off his cattle. And, to snuff out even one of a cat's "nine lives" was to risk being haunted by that particular cat for the rest of the murderer's life.


Historians say that the number nine has been a mystical and religious symbol for centuries. The Christian faith is based upon God represented in a trinity; Father, Son and Holy Spirit. Nine is as trinity of trinities . The Nordic god Odin gave his female counterpart Freja absolute rule over nine worlds. The hour that Jesus Christ died upon the cross was believed to have been the ninth hour of that most sacred day.


Nine is an appropriate number to be associated with cats and their elevation to divinity in many societies. Add to this the fact that cats have a remarkable agility that lets them escape harm from falls that would have killed any other creature, and there is additional evidence to convince many people that the cat had indeed been granted additional lives. An Indian scribe named Bidpai first recorded mention of that notion more than three centuries before the birth of Christ.


Did you know that it was in the middle 1500's that women and cats were first linked together? A scholar named Heywood began writing down the popular expressions of his time, one of which was "A woman hath nine lives like a cat." And, soon after, women who gossiped about other women were then said to be making catty remarks about each other!


CLICK ON KITTY to go to MORE Feline Fun Facts from Foothill Felines Bengals!!


~ Click on image above to learn about and order this uniquely powerful nutritional supplement for felines at our Foothill Felines breeder discount. Used and recommended by Foothill Felines, just a pinch a day sprinkled onto either wet or dry food provides vibrant results with all ages, weights and breeds of cats. Even the most finicky cats can't taste it! Developed by scientists, veterinarians and formulators to enhance the health and lives of cats, this unique Nu- Vet supplement contains many important minerals, antioxidants, enzymes and vitamins INCLUDING taurine, calcium, blue green algae, brewer's yeast, and much more. ~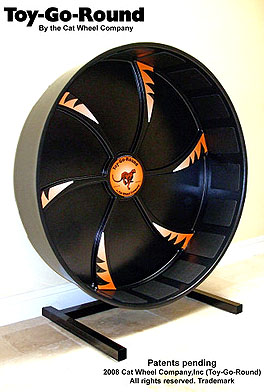 CAT EXERCISE WHEELS
~ Click on image above to learn about the incredible new exercise wheels for cats; click on photo above!! They're simply the best designed, best built and best priced wheels we've found anywhere!!

FELIWAY PLUG-INS & SPRAY
~ Click on links above to order these exceptionally calming products for felines. Used and recommended by Foothill Felines!! Wonderful for cats of all ages, weights, and breeds of cats. Contains natural cat pheromones for stress relief and eliminating need for cats and kittens to mark or exhibit other unwanted behaviors. ~
RESCUE REMEDY FOR PETS


~ Click on link above to order this homeopathic product. Bach Rescue Remedy (alcohol free) for Pets is for dogs, cats, horses, and birds - it's been recommended by veterinarians for animals worldwide as an emergency remedy to help calm pets in all kind of stressful situations. Just add several drops daily to your pet's drinking water. Used and recommended by Foothill Felines. ~

HOME | HOME (FRAMES VERSION) | BENGAL CATS | BENGAL & CAT CHAT | FREE BENGAL CAT SCREENSAVER | AVAILABLE BENGAL KITTENS & CATS | BENGAL KITTEN PHOTO ALBUMS | FUTURE LITTERS | SAVANNAH CATS
FELINE BEHAVIOR | BREEDING & CARE | CAT SHOWS | FELINE HEALTH | PET ODORS & ALLERGIES
UNIQUE CAT ACCESSORIES | THE BENGAL SPOT® | CAT EXERCISE WHEEL | CAT BOOKS | CAT FURNITURE | CAT TOYS & CATNIP | CHRISTMAS IS FOR CATS!® | SCAT MATS | VIDEO CATNIP | CAT WALKING JACKETS
BIG CATS | CAT NAMES | FELINE FUN FACTS | HOW TO ORDER | THE "KITTY TIMES" WEBSITE REVIEW | MARSHA'S WEB PAGE DESIGN® | MONTHLY SPECIALS | THOUGHT FOR THE WEEK
ABOUT US | CELEBRITY CORNER | E-MAIL US | GIVE US FEEDBACK | HOT LINKS | REGISTER FOR FREE GIFT | WEBMISTRESS
© 1996-2015 Copyright by HDW Enterprises, Inc. - All Rights Reserved.


HDW Enterprises, Inc., Cameron Park, CA 95682
http://www.hdw-inc.com e-mail: holly@hdw-inc.com