Foothill Felines Bengals present:

The Pilgrims were the first to introduce cats to North America!


The first breeding pair of Siamese cats arrived in England in 1884!


The first formal cat show was held in England in 1871; in America, in 1895!


The Maine Coon cat is America's only "natural" breed of domestic feline. It is FOUR TIMES larger than the Singapura (the smallest breed of cat)!


There are approximately 100 breeds of cats!


In relation to their body size, cats have the largest eyes of any mammal!


A domestic cat can sprint at about 31 miles per hour!


The heaviest cat on record weighed 46 pounds!

Cats step with both left legs, then both right legs when they walk or run!


The cat's front paws have 5 toes, but the back paws have 4. Some cats are born with as many as 7 front toes and even extra back toes (called polydactyl)!


Cats walk on their toes!


If a cat is frightened, the hair stands up fairly evenly all over the body; when the cat threatens or is ready to attack, the hair stands up only in a narrow band along the spine and tail!


Cat families usually play best in even numbers. Cats and kittens should be acquired in pairs whenever possible!


Cats must have fat in their diet, because they can't produce it on their own!


Cat's urine glows under a black light!



CLICK ON KITTY to go to MORE Feline Fun Facts from Foothill Felines Bengals!!


~ Click on image above to learn about and order this uniquely powerful nutritional supplement for felines at our Foothill Felines breeder discount. Used and recommended by Foothill Felines, just a pinch a day sprinkled onto either wet or dry food provides vibrant results with all ages, weights and breeds of cats. Even the most finicky cats can't taste it! Developed by scientists, veterinarians and formulators to enhance the health and lives of cats, this unique Nu- Vet supplement contains many important minerals, antioxidants, enzymes and vitamins INCLUDING taurine, calcium, blue green algae, brewer's yeast, and much more. ~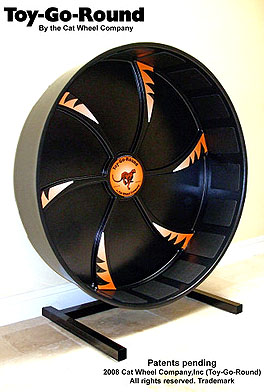 CAT EXERCISE WHEELS
~ Click on image above to learn about the incredible new exercise wheels for cats; click on photo above!! They're simply the best designed, best built and best priced wheels we've found anywhere!!

FELIWAY PLUG-INS & SPRAY
~ Click on links above to order these exceptionally calming products for felines. Used and recommended by Foothill Felines!! Wonderful for cats of all ages, weights, and breeds of cats. Contains natural cat pheromones for stress relief and eliminating need for cats and kittens to mark or exhibit other unwanted behaviors. ~
RESCUE REMEDY FOR PETS


~ Click on link above to order this homeopathic product. Bach Rescue Remedy (alcohol free) for Pets is for dogs, cats, horses, and birds - it's been recommended by veterinarians for animals worldwide as an emergency remedy to help calm pets in all kind of stressful situations. Just add several drops daily to your pet's drinking water. Used and recommended by Foothill Felines. ~

HOME | HOME (FRAMES VERSION) | BENGAL CATS | BENGAL & CAT CHAT | FREE BENGAL CAT SCREENSAVER | AVAILABLE BENGAL KITTENS & CATS | BENGAL KITTEN PHOTO ALBUMS | FUTURE LITTERS | SAVANNAH CATS
FELINE BEHAVIOR | BREEDING & CARE | CAT SHOWS | FELINE HEALTH | PET ODORS & ALLERGIES
UNIQUE CAT ACCESSORIES | THE BENGAL SPOT® | CAT EXERCISE WHEEL | CAT BOOKS | CAT FURNITURE | CAT TOYS & CATNIP | CHRISTMAS IS FOR CATS!® | SCAT MATS | VIDEO CATNIP | CAT WALKING JACKETS
BIG CATS | CAT NAMES | FELINE FUN FACTS | HOW TO ORDER | THE "KITTY TIMES" WEBSITE REVIEW | MARSHA'S WEB PAGE DESIGN® | MONTHLY SPECIALS | THOUGHT FOR THE WEEK
ABOUT US | CELEBRITY CORNER | E-MAIL US | GIVE US FEEDBACK | HOT LINKS | REGISTER FOR FREE GIFT | WEBMISTRESS
© 1996-2009 Copyright by HDW Enterprises, Inc. - All Rights Reserved.


HDW Enterprises, Inc., Cameron Park, CA 95682
http://www.hdw-inc.com e-mail: holly@hdw-inc.com