Foothill Felines Bengals present:

A cat's brain is more similar to a man's brain than that of a dog!


Both humans and cats have identical regions in the brain responsible for emotion!


Florence Nightingale owned more than 60 cats in her lifetime!


Cats respond better to women than to men, probably due to the fact that women's voices have a higher pitch!


If your cat snores, or rolls over on his back to expose his belly, it means he trusts you!


It has been scientifically proven that stroking a cat can lower one's blood pressure!


Cats purr at the same frequency as an idling diesel engine...about 26 cycles per second!


The domestic cat is the only species able to hold its tail vertically while walking. Wild cats hold their tail horizontally, or tucked between their legs while walking!

Cats respond most readily to names that end in an "ee" sound!


If a cat is frightened, put your hand over its eyes and forehead, or let him bury his head in your armpit to help calm him!


Not every cat responds to the effects of catnip. If the cat doesn't have a specific gene, it won't react. About 80% of cats DO have the gene, and enjoy the effects of catnip, which is purr-fectly safe and non-addictive!


Cats with long, lean bodies are more likely to be outgoing, and more protective and vocal than those with a stocky build!


A cat can jump FIVE TIMES as high as it is tall!


Cats lose almost as much fluid in the saliva while grooming themselves as they do through urination!


A cat will spend nearly 30% of her life grooming herself!


CLICK ON KITTY to go to MORE Feline Fun Facts from Foothill Felines Bengals!!


~ Click on image above to learn about and order this uniquely powerful nutritional supplement for felines at our Foothill Felines breeder discount. Used and recommended by Foothill Felines, just a pinch a day sprinkled onto either wet or dry food provides vibrant results with all ages, weights and breeds of cats. Even the most finicky cats can't taste it! Developed by scientists, veterinarians and formulators to enhance the health and lives of cats, this unique Nu- Vet supplement contains many important minerals, antioxidants, enzymes and vitamins INCLUDING taurine, calcium, blue green algae, brewer's yeast, and much more. ~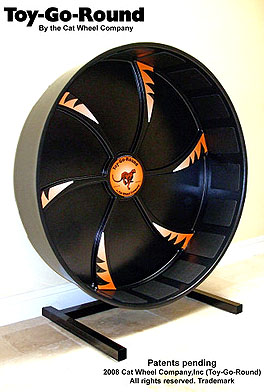 CAT EXERCISE WHEELS
~ Click on image above to learn about the incredible new exercise wheels for cats; click on photo above!! They're simply the best designed, best built and best priced wheels we've found anywhere!!

FELIWAY PLUG-INS & SPRAY
~ Click on links above to order these exceptionally calming products for felines. Used and recommended by Foothill Felines!! Wonderful for cats of all ages, weights, and breeds of cats. Contains natural cat pheromones for stress relief and eliminating need for cats and kittens to mark or exhibit other unwanted behaviors. ~
RESCUE REMEDY FOR PETS


~ Click on link above to order this homeopathic product. Bach Rescue Remedy (alcohol free) for Pets is for dogs, cats, horses, and birds - it's been recommended by veterinarians for animals worldwide as an emergency remedy to help calm pets in all kind of stressful situations. Just add several drops daily to your pet's drinking water. Used and recommended by Foothill Felines. ~

HOME | HOME (FRAMES VERSION) | BENGAL CATS | BENGAL & CAT CHAT | FREE BENGAL CAT SCREENSAVER | AVAILABLE BENGAL KITTENS & CATS | BENGAL KITTEN PHOTO ALBUMS | FUTURE LITTERS | SAVANNAH CATS
FELINE BEHAVIOR | BREEDING & CARE | CAT SHOWS | FELINE HEALTH | PET ODORS & ALLERGIES
UNIQUE CAT ACCESSORIES | THE BENGAL SPOT® | CAT EXERCISE WHEEL | CAT BOOKS | CAT FURNITURE | CAT TOYS & CATNIP | CHRISTMAS IS FOR CATS!® | SCAT MATS | VIDEO CATNIP | CAT WALKING JACKETS
BIG CATS | CAT NAMES | FELINE FUN FACTS | HOW TO ORDER | THE "KITTY TIMES" WEBSITE REVIEW | MARSHA'S WEB PAGE DESIGN® | MONTHLY SPECIALS | THOUGHT FOR THE WEEK
ABOUT US | CELEBRITY CORNER | E-MAIL US | GIVE US FEEDBACK | HOT LINKS | REGISTER FOR FREE GIFT | WEBMISTRESS
© 1996-2015 Copyright by HDW Enterprises, Inc. - All Rights Reserved.


HDW Enterprises, Inc., Cameron Park, CA 95682
http://www.hdw-inc.com e-mail: holly@hdw-inc.com