Proudly Presented By
HDW ENTERPRISES & Foothill Felines Bengals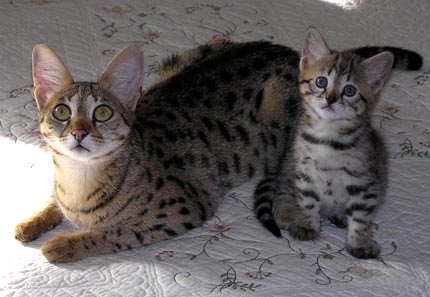 Beautiful Savannah Mother and Daughter
SelectExotics Sunny Spots of Foothill Felines and Foothill Felines Scampurr Spots
Feel free to browse through this entire page; or, click on any of the following topics: Why Claws Are Important to Cats; The Declaw Surgery Procedure; The Tendonectomy Surgery Procedure; Possible Behavioral and Physical Consequences of Declawing; Alternatives to Declawing


WHY CLAWS ARE IMPORTANT TO CATS

The feline is one of the most graceful, well-designed creatures on this Earth. A cat spends about one third of its time when it is awake grooming itself. The claws are a very important part of this function, and used extensively to help keep the cat's fur smooth and clean. This is not just for "good looks" -- grooming is the way a cat controls body temperature and the affects of outside temperatures; grooming also controls the scent signals used by the feline body; grooming is important for cleanliness, health, and for waterproofing the cat's body. The licking and scratching that a cat does while grooming itself or in social grooming combs out tangles in the fur, and removes skin irritations and dead skin and hair. There is no way a cat can use its teeth effectively to reach the important areas of the neck, head and mouth for grooming, and teeth are not nearly as efficient in keeping the other parts of the body in perfect condition.
Claws also help the feline to climb, which is part of the instinctive nature in almost all cats. While some cats can learn to climb without their claws, they will never experience the same joy and confidence in that exercise without the exactness and pinpoint contact of the tips of their claws on climbing surfaces. The act of scratching itself is often a form of greeting by felines, and provides a source of psychological comfort through its rhythmic action. In addition, scratching is a source of reassurance to the cat of its ability to defend itself or to choose not to defend itself, which can be witnessed by watching the cat contract its claws and "knead" its owner with contentment and trust.
Without claws, a cat will not be able to defend itself, nor will it be able to hunt. Without claws, should a cat ever get out from the safety of its home, or the owner suddenly be unable to take care of the cat for whatever reason, the cat will no doubt perish from starvation, as it will no longer be able to take care of itself and provide itself with food.

CLICK ON KITTY to go back to top of page!

THE DECLAW SURGERY PROCEDURE

"Onychectomy", which is considered the most common method of declaw surgery, is the actual amputation of the claw AND THE COMPLETE END TOE BONE JOINT. In most cases, the cat will be in pain for a week or even more, and this surgery can indeed cause postoperative complications. These complications can include hemorrhage, infection, and even nail re-growth after a period of time - often this re-growth is extremely painful, and can be extremely difficult to correct. Unfortunately, the majority of American veterinarians will often perform this surgery simply at the request of the cat's owners, without finding out the underlying reasons for the request. Also, many cat owners subject their felines to this surgery mistakenly thinking it is a much simpler, less painful procedure that it truly is. Declawing is not permitted in some countries, such as Great Britain, except for serious medical reasons.
While laser surgery has been used for some years now in human medicine, it is just starting to catch on in veterinary medicine. There are some veterinary clinics that currently use a laser for all their declaw surgeries and they are reporting very positive advancements in the procedure itself and the lessening of adverse post-procedure side effects. The cats go home in significantly less pain than they would have after having had traditional surgery, they heal faster, and are up and walking 90% of the time without bandages in 3-4 hours, or as soon as their anesthesia wears off. This is certainly an important point to consider if there are absolutely no other viable alternatives to having the declaw surgery itself performed.

CLICK ON KITTY to go back to top of page!

THE TENDONECTOMY SURGERY PROCEDURE

As an alternative to the traditional declaw surgery, there is another surgical procedure known as "Deep Digital Flexor Tendonectomy", which was first described in 1986 by John Rife, DVM (Journal AAHA, Nov. 1986). This procedure involves the severing of the tendon attached to the end toe digit, but maintaining the claw in its sheath. After the surgery, the cat will still have its claws, but will not be able to extend them. The technique is not detectable visually, and does limit the cat's ability to damage surfaces when scratching. (Of course, since the cats still have their claws, the claws need to be trimmed.) This surgery is less painful than the traditional method, and the recovery is quicker - 2 days or less, vs. 7 days or more - and the post-operative risks are minimal. This surgery has not been as favored by many veterinarians because they are concerned about their client satisfaction. In reality, most clients would really appreciate knowing about an alternative that was less painful for their cat, less traumatic and less risky, and would not mind the claw trimming time and efforts needed on their parts to make this alternative a success. There is a risk of in-growth of claws into the paw pads (if they are not kept trimmed), and some veterinarians who have performed this surgery have reported joint fusion and arthritis in some of their patients.

CLICK ON KITTY to go back to top of page!

POSSIBLE CONSEQUENCES OF DECLAWING

Changes in behavior are not uncommon in declawed cats; however, some cats seem to do fairly well when they have completely recovered from their surgery. It is impossible to predict what will happen physically and emotionally to cats after they undergo this procedure. Some declawed cats will resort to biting behavior when confronted with even very minor perceived stress or threats. This behavior is the overcompensation for the cat's insecurity about not having any claws. Sometimes, a cat's sense of balance is affected by not being able to grasp and measure objects with their claws. Chronic physical problems such as cystitis and skin disorders can all be the results of a declawed cat's sense of frustration and high degree of stress. Remember, too, that it IS possible for serious infections to occur, and for the claws to even grow back, often in a deformed and difficult-to-treat state.

CLICK ON KITTY to go back to top of page!

ALTERNATIVES TO DECLAW SURGERY

You do not have to share your home with a kitty who continuously scratches and destroys your home, furnishings and belongings. Most felines can be trained quite easily to use a tall, sturdy and heavy piece of cat furniture for their scratching needs. Placement of this furniture is critical, and best success is achieved by understanding why the cat scratches in the first place, and making sure the cat furniture is placed correctly to meet those needs. For additional information, we have an article about Teaching Your Cat To Use A Scratching Post. We also offer a complete Feline Furniture section, with Secure Server and on-line ordering system, to showcase all the various types of cat furniture that is available, and customizable for your own unique home decor needs.

We have found that by using leather, vinyl or combination leather/vinyl furnishings in our main living areas, our cats have little or no desire at all to scratch our furniture. The type of fabric to avoid is the loosely woven fabrics for living room couches and chairs, as cats love to get their claws under the fabric loops.

It may seem rather simplistic, but taking the time to TRAIN your kitty is also usually quite effective - whether you use "NO" in a firm warning voice, followed by a squirt from a water mister, or whether you choose to discourage his undesirable scratching behavior by leaving the room. BE PATIENT...and BE CONSISTENT.

Keep the front claws neatly trimmed, being careful not to cut in to the "quick" area where the blood flows to the nail. If you have any doubts, have your vet show you how to trim your kitty's nails properly.

There are products out now such as SOFTPAWS©, that can be used (sort of like Lee Press-on nails) to discourage a chronic furniture scratcher. Take the time to try these products before even considering the permanent, irreversible, expensive and mutilating declaw surgery, as they have worked for millions of happy cats and their owners.

Until your cat learns that his scratching needs to be on his post (or posts - you can never have too many, and it's best to have at least one in each room where your cat spends significant time), you may want to try covering his favorite human furniture with double-sided sticky tape, a separate throw, blown up balloons taped to the furniture, aluminum foil, or some similar distraction.

When you have the opportunity, remember to NEVER use your hands and arms in play with your kitten or cat. Responsible breeders start working with their kittens at a very young age, teaching them the difference between toys (meant for play) and human body parts (meant for giving and receiving love). This all plays a big role in the proper development of cat behaviors such as appropriate ways to handle teething, and not turning in to cats that bite or scratch people and/or furniture. With the development of proper cat behaviors such as these, there never becomes a need to even consider the idea of declawing.

CLICK ON KITTY to go back to top of page!

~ Give your kitty the energy, great health and desire to enjoy life to the fullest! Used and recommended by Foothill Felines, click on image above for more information and to order this uniquely powerful nutritional supplement for felines at our Foothill Felines breeder discount (which is up to 50% less than what veterinarians usually charge). Just a pinch a day, sprinkled onto wet and/or dry food, energizes and supports all ages, weights and breeds of cats. Developed by scientists, veterinarians and formulators to enhance the health and lives of cats, this unique Nu- Vet supplement contains many important minerals, antioxidants, enzymes and vitamins especially needed by active felines' metabolisms INCLUDING taurine, calcium, blue green algae, brewer's yeast, and much more. ~





FELIWAY PLUG-INS & SPRAY


~ Click on links above for more information and to order these exceptionally calming Feliway products for felines. Used and recommended by Foothill Felines! Wonderful for cats of all ages, weights, and breeds. Contains natural cat pheromones for extremely effective stress relief and eliminating need for cats and kittens to mark or exhibit other unwanted behaviors. Every multi-cat household should know about these plug-ins; they are odorless to people, yet they are especially helpful to kittens/cats during a move, any change in your household routine, periods of stress of any kind, and queening. ~
FOOTHILL FELINES BENGALS & SAVANNAHS
Cameron Park, CA 95682 U.S.A.
(530) 672-CATZ Phone; E-mail: holly@hdw-inc.com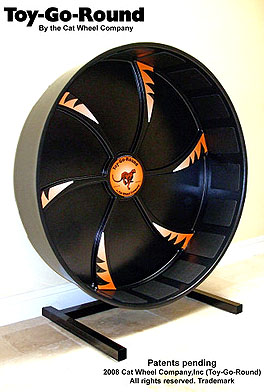 TOY-GO-ROUND CAT EXERCISE WHEELS
~ Click on image above to learn about the incredible new exercise wheels for cats; the Toy-Go-Round wheels!! Great for relieving boredom, staying in shape, and providing the energy release even indoor cats crave, these are simply the best designed, best built and best priced cat exercise wheels we've found anywhere!! ~
HOME | HOME (FRAMES VERSION) | BENGAL CATS | BENGAL & CAT CHAT | FREE BENGAL CAT SCREENSAVER | AVAILABLE BENGAL KITTENS & CATS | BENGAL KITTEN PHOTO ALBUMS | FUTURE LITTERS | SAVANNAH CATS
FELINE BEHAVIOR | BREEDING & CARE | CAT SHOWS | FELINE HEALTH | PET ODORS & ALLERGIES
UNIQUE CAT ACCESSORIES | THE BENGAL SPOT® | CAT EXERCISE WHEEL | CAT BOOKS | CAT FURNITURE | CAT TOYS & CATNIP | CHRISTMAS IS FOR CATS!® | SCAT MATS | VIDEO CATNIP | CAT WALKING JACKETS
BIG CATS | CAT NAMES | FELINE FUN FACTS | HOW TO ORDER | THE "KITTY TIMES" WEBSITE REVIEW | MARSHA'S WEB PAGE DESIGN® | MONTHLY SPECIALS | THOUGHT FOR THE WEEK
ABOUT US | CELEBRITY CORNER | E-MAIL US | GIVE US FEEDBACK | HOT LINKS | REGISTER FOR FREE GIFT | WEBMISTRESS
© 1996-2009 Copyright by HDW Enterprises, Inc. - All Rights Reserved.
HDW Enterprises, Inc., Cameron Park, CA 95682 (530) 672-CATZ phone
http://www.hdw-inc.com E-mail: holly@hdw-inc.com